China economy sees more signs of improvement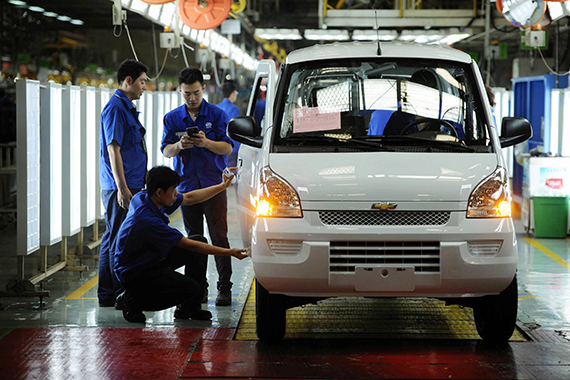 Photo taken on July 15, 2015 shows workers checking a vehicle before it goes offline in the
Qingdao branch of carmaker SGMW in Qingdao, east China's Shandong Province.

Photo by Yu Fangping
BEIJING

 

|   2015-12-12 22:00:21
China economy sees
more signs of improvement
By Lin Jianyang and Wang Xi
New macroeconomic indicators have suggested stabilization in the Chinese economy and that China is on track to meeting the government's growth target for 2015.
Among the positives from figures released on Saturday of December 12 by the National Bureau of Statistics (NBS) are a notable rebound in industrial production and steady fixed-asset investment growth in November.
Property investment, however, remained weak, which could undermine a moderate recovery of the broader Chinese economy.
STRONG RETAIL
China's retail sales, a key indicator of consumer spending, rose 11.2 percent year on year in November, the highest monthly growth rate of the year.
NBS statistician Lin Tao said retail sales have grown steadily in the second half of this year. He attributed November's strong sales to better performance by the car industry, booming e-commerce and improving home sales.
Growth of online sales was 8 percentage points higher than in October, and online sales contributed more than 30 percent of retail sales growth in November, Lin said.
On Nov. 11, the annual Singles' Day shopping festival saw Alibaba Tmall's online sales jump 60 percent to reach 91.2 billion yuan (14.17 billion U.S. dollars). Its rival JD.com, though much smaller in volume, said 32 million orders were placed in the day, up 130 percent from last year.
In the first 11 months, online sales surged 34.5 percent year on year to 3.45 trillion yuan, accounting for 12.6 percent of gross retail sales, the NBS data showed.
Strong retail sales indicated that pro-consumption policies are taking effect. It also offered relief for Chinese policy-makers as they try to restructure the Chinese economy to a more consumption- and service-driven model to sustain growth, albeit at a slower rate.
Industrial output growth also picked up last month by posting a year-on-year 6.2-percent increase, up from the 5.6-percent growth recorded in October.
That represents the second-highest monthly growth this year, after June's 6.8 percent, pointing to tentative signs of improvement in the manufacturing sector.
Jiang Yuan, another NBS statistician, attributed November's industrial growth to a notable acceleration in automobile manufacturing. Thanks to a purchasing tax cut and previous destocking, the value-added of the auto industry jumped 13 percent in November, 5.7 percentage points higher than in October, Jiang said.
STABILIZING
Industrial production and the value added of the service sector accounted for 40.6 percent and 51.4 percent, respectively, of China's total GDP in the first nine months of 2015.
As a result, faster expansion of industrial output and retail sales are set to support the broader economic growth.
Other November macroeconomic figures released earlier this week also indicated improvement in the Chinese economy, including eased import contraction, a pickup in consumer inflation and higher-than-expected new yuan loans.
NBS spokesperson Sheng Laiyun said on Friday that the economy's improvement is being helped by growth-stabilizing policies and that it is on track to meet an official growth target of around 7 percent this year.
Sheng cited accelerating retail sales and growth in November's non-manufacturing producer managers' index as encouraging.
China's economy expanded 6.9 percent year on year in the third quarter of 2015, the lowest quarterly growth in six years.
But employment remained sound, income growth outpaced GDP growth, and grain output increased for a 12th straight year, all of which Sheng said provided support for China to reach its annual growth target.
The main worry lies in the prolonged weakness in the property sector, which has been a significant supporting force for China's economic growth.
Real estate investment rose just 1.3 percent year on year in the first 11 months, compared with the 2-percent growth for the Jan.-Oct. period.
That was a sharp retreat from the 10.5-percent growth recorded in 2014 and the 19.8-percent gain in 2013.
Overall, the Chinese property market remained sluggish in 2015 due to weak demand and a supply glut, prompting authorities to take easing measures, including interest rate cuts, reducing down payments and scrapping home-purchase restrictions.
But destocking pressure persists. Unsold homes nationwide hit a record 686.3 million square meters at the end of October, up 17.8 percent from a year earlier, according to official figures.
Wang Tao, a UBS economist, called a more prolonged property destocking process "the biggest downside risk" for China's growth.
The knock-on effect of a property construction downshift would continue to spread through the rest of the Chinese economy for the next two years, dampening demand for commodities and machinery, Wang said in a research note last month.

377 Comments