Chinese mainland spokesman reiterates 1992 Consensus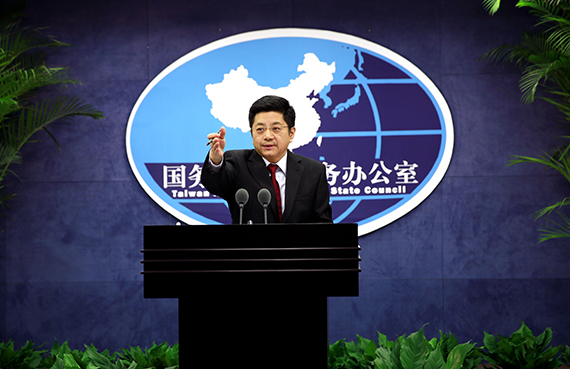 Ma Xiaoguang, a spokesperson with the State Council Taiwan Affairs Office, speaks at a press
conference in Beijing, capital of China, on December 30, 2015. A hotline between the Chinese
mainland and Taiwan was officially put into operation on Wednesday, and chiefs of cross-Strait
affairs from both sides have used it to speak to each other.   Photo by Pan Xu
BEIJING

 

|  2015-12-30 17:19:02
Chinese mainland spokesman
reiterates 1992 Consensus
By Wang Di and Guo Yaru
The key to maintaining peaceful development of relations across the Taiwan Strait is to accept the 1992 Consensus, which endorses the one-China principle, a mainland official said on Wednesday of December 30.
Ma Xiaoguang, spokesperson for the State Council Taiwan Affairs Office, warned of the dangers of deviating from the 1992 Consensus at a press conference.
"Without the political foundation of the 1992 Consensus, the liaison and communication mechanism across the Strait will surely be affected, or even collapse; and the ship featuring peaceful development of cross-Strait relations will encounter terrifying waves, or even capsize," Ma said.
The 1992 Consensus was reached by the mainland's Association for Relations Across the Taiwan Straits (ARATS) and Taiwan's Straits Exchange Foundation (SEF) in November 1992 in Hong Kong.
The core of the 1992 Consensus is that the Chinese mainland and Taiwan belong to "one China" and their relations are not "country-to-country," Ma said.
The spokesperson was responding to reporters' requests for comment on remarks made by Tsai Ing-wen, the chair of Taiwan's opposition Democratic Progressive Party.
At a TV debate for the Taiwan leadership election on Sunday, Tsai said that she did not deny the historical facts of the meeting between the ARATS and the SEF in 1992, but noted there were different views on how to interpret the event.
"Both the meeting itself and the meaning of the 1992 Consensus [...] have complete records and should not be doubted," Ma said.
Adhering to the 1992 Consensus is the common political ground for the mainland and Taiwan. This has brought about peaceful and stable relations across the Strait as well as substantial benefits for people on both sides, he said.
When asked to comment on the proposal by scholars across the Strait advocated to nominate Xi Jinping and Ma Ying-jeou for the Nobel Peace Prize for their historic meeting, the spokesperson said that the recommendation showed that the meeting has won the support of the peoples of both sides.
Xi and Ma met in Singapore in November in the first meeting between leaders across the Taiwan Strait since 1949, turning a historic page in cross-Strait relations.
The Taiwan leader recently said that he would not exclude the possibility of visiting the mainland after his term ends.
"We support communication and exchanges between the Chinese mainland and Taiwan at all levels and in various fields," said the spokesperson.

2,130 Comments