Battle for safe drinking water in parched northwest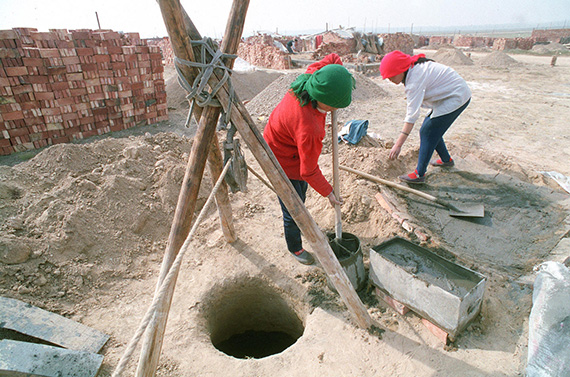 Photo taken on November 4, 1998 shows  farmers busy building rainwater vaults in Dingxi 
Prefecture of Gansu Province. Local government has exerted great efforts to develop the rain
collection project to fight severe droughts in 1996 and 1997. A total of 113,000 water vaults
had been drilled and 88,000 old vaults reformed , providing water to 500,000 residents and
609,000 livestock in the area.
LANZHOU

 |   2016-01-10 11:13:27
Battle for
safe drinking water
in parched northwest
By Zhong Qun and Cheng Nan
For years, Wang Xiagui's biggest concern was getting drinking water.
Living in the village of Xiajie in the parched Gansu Province of northwest China, Wang had to walk at least five kilometers to fetch safe drinking water on the other side of the mountain.
"A trip back would take about an hour by foot, so it was very inconvenient," Wang said.
These days, however, Wang's life has changed thanks to an ongoing government initiative that aims to bring safe drinking water to rural Gansu.
According to figures publicized by the Gansu Provincial Department of Water Resources this week, the Gansu government has pumped about 11.4 billion (1.7 billion U.S. dollars) in funds to construct water projects in Gansu over the past decade, with more than 16 million rural residents having received clean water by the end of 2015.
In Weiyuan County, where Wang Xiagui's village is located, tap water has reached 96 percent of local population, according to local Party chief Ji Xiu.
"There was a famous saying here in the past: People should never set foot in the parched ravine of our county," Wang said as he collected water from his tap. "Now it's a different story."
PROLONGED DROUGHTS
Gansu Province is long known for its severe droughts, with a meager 302 millimeters of average annual precipitation. In the eastern financial hub Shanghai, the number stands at 1,123 mm.
In the 2,000 years before 1949, the province suffered 749 droughts, averaging one drought every three years. In recent years, the frequency has only risen, with the situation particularly severe in the countryside as modern water projects were scarce.
Xiao Kecheng was one of those who suffered.
The 59-year-old farmer said he had been collecting muddy water from the ravine in Gansu's Gaoshan Village since he was six.
"There was not much water, so we had to queue at night," Xiao recalled.
He said that local residents also saved rain water in their cellars to drink later. In extremely dry years, they had to buy water from cities and towns, spending more than 1,000 yuan each year on it, a huge burden for the poor community.
WATER PROJECTS
Beginning in 2005, the Gansu government launched a campaign to tackle the drinking water issue by building water projects, after a government survey in 2004 found more than 15 million rural residents did not have access to safe drinking water.
Since then, tens of thousands of wells and cisterns have been built across the countryside.
According to the provincial water resources department, a total of 6,069 big water projects and 81,700 small ones have been built, with 80 percent of rural population now able to access tap water, compared to just 25.8 percent ten years ago.
In Zhangjiachuan County, for example, supervision cameras have been set up near water reservoirs, with staff monitoring the water quality 24 hours a day. A county-level water quality inspection center has also been established, with professionals doing tests regularly to make sure local residents are drinking safe water.
The projects have changed the lives of local rural people in Gansu, improving quality of life and contributing to agriculture development.
"In the past I did not dare raise many sheep, because getting drinking water for my family was a big headache, let alone water for animals," said farmer Ma Jianying from Bulenggou Village. "Now I have raised more than 160 sheep thanks to the water projects."
For Liu Honghong, fresh tap water means her family can finally take showers at home.
"We used to walk to public bathrooms in the township five km away," Liu said. "On windy days, we would be covered in dirt again when we reached home."
Water resource official Zhang Shihua said that while the drinking water problem is "basically solved", challenges remain.
"Some projects are too small and cannot guarantee enough water supply under bad weather conditions," Zhang said. "We will improve the situation in the next five years."
The Gansu government plans to upgrade water projects in 1,107 villages to extend water supply facilities to some 260,000 rural households.
Two farmers film crops to combat the drought in a field at Luotuoxiang Village, Dingyuan
Town of Yuzhong County in northwest China's Gansu Province on March 14, 2007. Most
part of the province has seen fewer rains since the spring set in, leaving nearly 82 hectares
of farmland thirsty.   Photo by Nie Jianjiang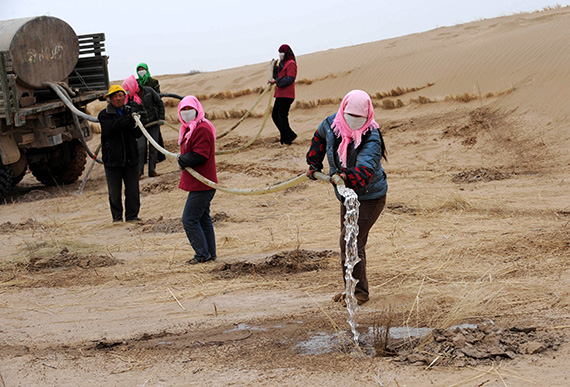 Villagers water a drought-resistant plant in Minqin County, northwest China's Gansu
Province, on March 11, 2009. Minqin County, located in between the Tengger Desert and the
Badain Jaran Desert, is surrounded on three sides by the desert. The county fenced about 8667
hectares of sand land and artificially afforested other 4500 hectares in 2008. The county planned
to artificially reafforest some 5400 hectares of sand land this year.   Photo by Han Chuanhao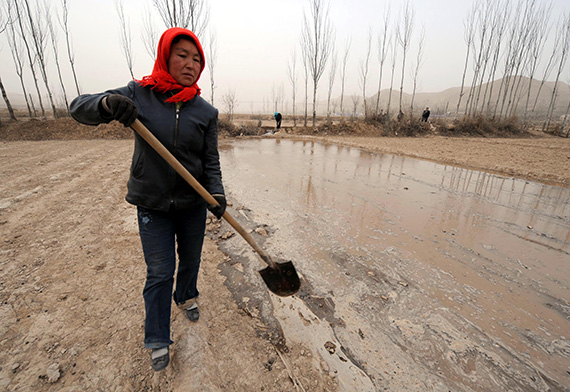 A farmer irrigates her fields in Gaolan County, northwest China's Gansu Province, on February 18,
2009. Up to now Gansu Province has allocated 56 million RMB yuan (8.19 million U.S. dollars) to
combating a severe drought, which is still threatening the area.   Photo by Han Chuanhao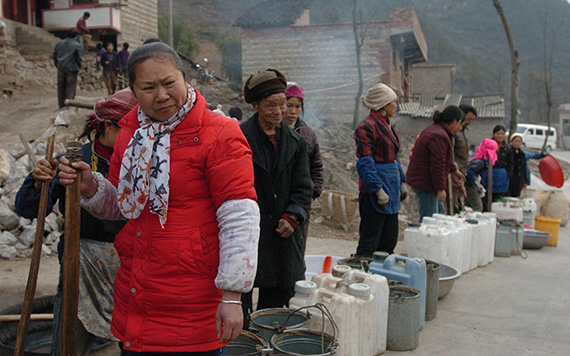 People line to get water supplied by local government in drought-hit Zhongba Township
of Changshun County, northwest China's Gansu Province, on March 9, 2010. Local people
grapple with lingering drought in Changshun County, which is one of the worst-hit regions
in the drought in northwest China.   Photo by Yang Hongtao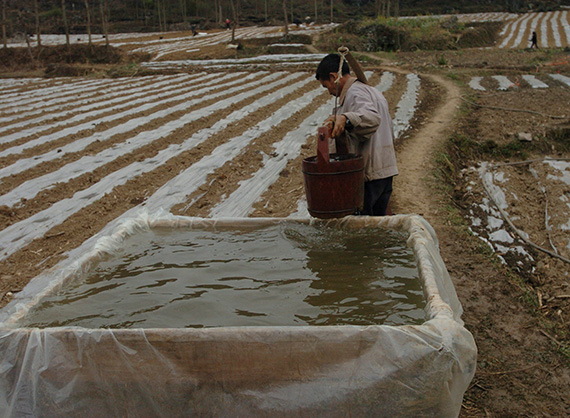 A man prepares to water the field in drought-hit Changshun County, northwest China's Gansu
Province, March 9, 2010. Local people grapple with lingering drought in Changshun County,
which is one of the worst-hit regions in the drought in northwest China.   Photo by Yang Hongtao
Villager Du Weibin washes hands for his child beside a water well in Qingshui Village of
Lujiagou Township in Dingxi City, northwest China's Gansu Province, on March 28, 2013.
A drought lingering Gansu Province has caused 650,000 people lack of drinking water.
Photo by Chen Bin

11 Comments