620 mln Chinese surf Internet via cell phone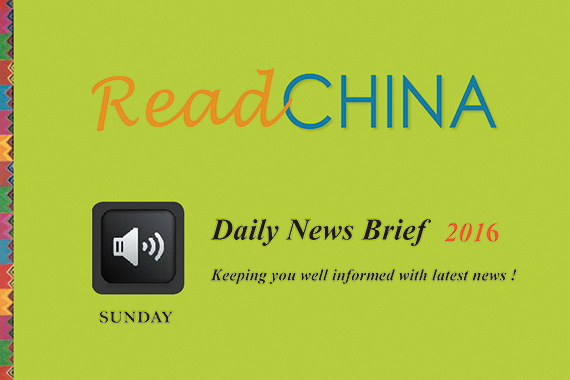 BEIJING  |  2016-01-24 09:26:30
>

>

>

 Chinese president back home after visits to Saudi Arabia, Egypt, Iran
By Wu Yue
Chinese President Xi Jinping returned to Beijing early on Sunday morning of January 24 after his state visits to Saudi Arabia, Egypt and Iran.
Xi visited Saudi Arabia at the invitation of Saudi King Salman bin Abdulaziz Al Saud. The two countries agreed to upgrade the bilateral ties to a comprehensive strategic partnership.
He then visited Egypt at the invitation of Egyptian President Abdel-Fattah al-Sisi. The two sides signed a five-year outline document to further advance their relationship.
At the invitation of Iran's President Hassan Rouhani, Xi visited Iran. The two sides agreed to elevate the bilateral ties to a comprehensive strategic partnership.
BEIJING  |  2016-01-24 15:31:10
>

>

>

 Xi's fruitful Middle East tour highlights China's commitment to building new type of int'l relations
By Wang Shang and Sun Ding
Chinese President Xi Jinping returned home on Sunday of January 24 after wrapping up a historic trip to Saudi Arabia, Egypt and Iran with a broad consensus and 52 cooperation agreements set to deepen Beijing's constructive engagement with the struggling yet promising region.
The fruitful five-day Middle East tour, which filled up Xi's global footprint, has once again testified to the Asian giant's commitment to promoting peace and development around the world and building a new type of international relations featuring win-win cooperation.
UPGRADE POLITICAL TIES
The visit, summarized Chinese Foreign Minister Wang Yi on Saturday, was a successful stroke of diplomacy that deepened China's traditional friendship and practical cooperation with the three countries and the region as a whole, and contributed to regional reconciliation, peace and development.
During Xi's trip, China upgraded its relationship with both Saudi Arabia and Iran to a comprehensive strategic partnership, and vowed to work together with Egypt to add more values to their comprehensive strategic partnership.
Regional organizations, including the Organization of Islamic Cooperation (OIC), the Cooperation Council for the Arab States of the Gulf (GCC) and the Arab League (AL), also applauded Xi's visit and voiced their readiness to cement mutual trust and broaden win-win cooperation with China.
AL Secretary General Nabil al-Arabi said China has always stood with the developing world, adding that the Arab world is willing to work closely with China in political, economic as well as other sectors for mutual benefit.
BOOST WIN-WIN COOPERATION
The Belt and Road Initiative, an ambitious vision Xi put forward in 2013 to boost inter-connectivity and common development along the ancient land and maritime Silk Roads, has gained more support and popularity during Xi's trip.
Saudi Arabia, Egypt and Iran, given their unique geographical locations and rich historical connections with China, are natural partners of China in jointly carrying out the initiative, noted the Chinese foreign minister.
Xi and leaders of the three nations agreed to align their countries' development blueprints and pursue mutually beneficial cooperation under the framework of the Belt and Road Initiative, which comprises the Silk Road Economic Belt and the 21st Century Maritime Silk Road.
The initiative, reiterated the Chinese president, is by no means China's solo, but a symphony of all countries along the routes, including half of the OIC members.
During Xi's stay in Saudi Arabia, China and the GCC resumed their free trade talks and "substantively concluded in principle the negotiations on trade in goods." A comprehensive deal will be made within this year.
Many observers have pointed out that the spirit of the Silk Road, which features peace and cooperation, conforms to the Islamic values, and China's efforts in the region show that China is far more than just an oil buyer.
What China is doing, they say, serves as a true paradigm of win-win cooperation and will help Middle Eastern countries improve their ability to grow independently.
PROMOTE MUTUAL LEARNING
Xi's trip, said Wang, also contributed to the time-honored exchanges between the ancient Chinese and Islamic civilizations and consolidated mutual understanding between the Chinese and Middle Eastern people.
The interaction and mutual learning between the Chinese and Islamic civilizations are an important part in the history of inter-civilization exchanges, Xi said in a signed article published on Saudi newspaper Alriyadh.
During his visit, Xi called for joint efforts to reject extremist thoughts and oppose tying terrorism with any specific nation, religion or religious sect.
Speaking of Xi's speech at the AL headquarters, Wang said the "China solution" proposed by the Chinese president, which takes peace and development as the core, targets both the symptoms and root causes of the Middle East quagmire.
In his address, Xi urged Middle Eastern countries to resolve their differences through dialogue and tackle the regional predicament through development.
Wang noted that China's diplomatic principles such as respect for sovereignty and non-interference have won unanimous appreciation across the region.
Beijing's basic stances of addressing conflicts via political means and letting the UN play a bigger role have also been widely recognized by regional countries, he added.
BEIJING  |   2016-01-24 16:25:48
>

>

>

 Experts, media organizations laud positive results of Xi's Mideast trip
By Wang Haiqing
Foreign experts and media organizations have lauded Chinese President Xi Jinping's three-nation tour in the Middle East.
The visits to Saudi Arabia, Egypt and Iran, the first foreign trip by Xi in 2016, has substantially boosted China's relations with the three countries and significantly contributed to peace and stability in the region, they believed.
Xi's visit to Saudi Arabia has charted a clear roadmap for the future development of bilateral ties, Saudi state television's political commentator Abdula Majeed said, highlighting the signing of a raft of cooperation deals and the establishment of a high-level steering committee for bilateral cooperation.
A commentary carried by Saudi newspaper Alriyadh said that Xi's visit has created favorable conditions for the two countries to join hands so as to revive the ancient Silk Road, since Saudi Arabia is a regional power and major global energy supplier while China is a global player with significant political and economic influence.
Khalifa Assadah, executive director of the Qatar Media Company, told Xinhua that Xi's Middle East trip will definitely boost friendly ties between China and the three nations, inject fresh vigor into economic development in the region and contribute to the solution of various issues that have long troubled the region as well as the rest of the world.
After decades of development, China has become an economic giant and has a need to protect its economic interests in the Middle East, said Hazem Ahmed Hosni, professor of international relations at Cairo University.
Xi's visit marks a new chapter in China's Middle East policies, and the country is set to play a more active role in the region, added Hosni.
Ahmadi Mouhssin, professor of international relations at the Cadi Ayyad University in Morocco, said that Xi's Middle East trip brings hope for peace and development in the region. "His visit gives out a strong signal, especially his speech at the headquarters of the Arab League," Mouhssin said.
In his speech, Xi said that the key to resolving differences in the Middle East is to enhance dialogue and that the key to overcoming difficulties in the region is to promote development.
He also promised concrete measures to support development in the Middle East, including 15 billion dollars of exclusive loans, 10 billion dollars of commercial loans and 10 billion dollars of soft loans, as well as joint investment funds of 20 billion dollars.
Saad Ragragui, professor of international law with the Mohammed V. University in Morocco, said Xi's visit is of "particular importance" for Iran.
"China is Iran's largest trade partner and relations between the two countries will continue to grow within the framework of the 'Belt and Road' (initiative)," said Ragragui.
Oktay Tanrisever, professor of international relations in Middle East Technical University in Turkey, said: "The three countries Xi has visited represent different dynamics in the Middle East. … They are not always on the same page but they are all major players in the region."
He noted that Xi's three-nation trip will not only bolster regional economic development, but also the global fight against terrorism.
RAMALLAH  |   2016-01-24 22:34:27
>

>

>

 Chinese president's Mideast visit backs Palestinian cause
By Gao Lu
A recent visit by Chinese President Xi Jinping to the Middle East is so important for the Palestinian cause and will boost the historical ties between the Arab nations and China, Palestinian analysts and observers have agreed.
In his speech at the Arab League in Cairo, President Xi made clear his country's stance towards finding a fair solution to the Palestinian cause, the analysts said.
"The Palestinian cause is a basic issue for peace in the Middle East. If the international community wants calm and an end to the conflict, it must help resume the peace talks, implement peace agreements and be committed to achieving fairness and justice," Xi said in Cairo.
He urged the international community to take more powerful measures to reactivate the stalled peace talks and support the process of the economic reconstruction that would enable the Palestinians to see a light of hope, stressing that his country backs the establishment of a Palestinian state.
Nabil Abu Rdineh, an aide to Palestinian President Mahmoud Abbas, praised President Xi's remarks, saying that "it is another historic position of China that backs the Palestinian cause and the Palestinian people."
Abu Rdineh told Xinhua that China has been backing the Palestinian cause at all levels.
"China backs the Palestinian people politically and financially, and always stands on the side of the Palestinian legitimate rights in all international bodies and agencies," he said, adding that the Palestinian ties with China have always been strong, firm and clear.
Ahmed Awad, a political science professor at Birzeit University in the West Bank, told Xinhua that China supports the legitimate rights and struggle of the Palestinian people.
He went on saying that China was one of the first great countries recognizing the Palestine Liberation Organization (PLO) as the sole and legitimate representative of the Palestinian people.
It also was the first country that allowed the opening of a PLO office on its lands, he added.
"The Palestinians and the Arabs call for the resumption of peace talks within the framework of an international peace conference and not through useless bilateral negotiations," Hani al-Masri, director of Ramallah-based Badil Center for Studies, told Xinhua, referring to 20 years of bilateral talks which achieved no notable progress.
He also said so far there is no opportunity for achieving peace in the region, "because Israel is unready for peace. It doesn't want a peaceful settlement but to keep dictating the Palestinians and the Arabs."
The Palestinian analyst also said after the failure of the U.S.-sponsored peace process between Israel and the Palestinians, "the international community is not interested in achieving peace on the ground and unable to oblige Israel to be committed to it."
YINCHUAN  |  2016-01-24 15:37:18
>

>

 Chinese company explores Arab market through e-commerce
By Lou Chen and Zhao Qian
A Chinese company, based in northwest China's Ningxia Hui Autonomous Region, has signed a contract to rent 10,000 square meters of land in Dubai's Jebel Ali free trade zone.
The land will be used to build service centers for exhibition, consultation, after-sales service and promotion of China-produced high-quality products, said Li Zheng, director of Ningxia-based SRP Group.
The group is dedicated to promoting cross-border trade between China and Arab nations.
The service center, part of the company's Silk Road E-Path chain, will showcase China-produced automobiles and textiles.
"By exhibiting quality Chinese products, we want to change Middle Eastern consumers' assumption that made-in-China equals cheap, small commodities," said Li.
The company is also considering building more centers in Jordan and Oman trade areas to facilitate e-commerce between China and Arab countries.
SRP also runs a B2B (business to business) platform to help trade by Chinese companies by assisting them in customs clearance, payment, translation, accreditation, logistics and product exhibition.
Arab countries have become China's biggest supplier of crude oil and its seventh-biggest trading partner. They are the world's largest market for construction contracts and grain imports.
"The potential for Chinese companies to boost exports to Arab nations is huge," said Xie Menglin, director of the Small and Medium Companies Association in Ningxia.
The association is also helping metal, construction material and petro-chemical companies expand their business in Oman.
JAKARTA  |   2016-01-24 21:08:49
>

>

 Chinese navy fleet starts visit to Indonesia
Chinese navy's Fleet 152 on Sunday of January 24 arrived in Jakarta, starting a five–day visit which is the final stop of its trip around the globe.
Those present at the welcome ceremony included Chinese Ambassador to Indonesia Xie Feng, Chinese Ambassador to ASEAN Xu Bu and Eko Wahyono, Deputy Commander of the Main Naval Base III of Indonesia Navy.
Some 300 people including representatives of Chinese institutions also attended the ceremony, held at Tanjung Priok Port in Jakarta.
In his speech, Eko said Fleet 152′s visit was a great event for Indonesia, as it will promote and strengthen the friendship between the two navies.
Wang Jianxun, commander of the Chinese navy fleet, said the visit will further boost the traditional friendship between the two countries, promoting the cooperation between the two militaries, especially the ties between the two navies.
After the ceremony, Fleet 152, composed of a missile–equipped destroyer Ji Nan, a missile–equipped frigate Yi Yang and an integrated supply ship Qian Daohu, was open to public for visit.
During the fleet's stay in Jakarta, the officers and soldiers will visit a local orphanage. Fleet commander Wang Jianxun will also meet with Indonesia's western fleet commander and Jakarta's governor.
BOGOTA  |   2016-01-24 12:28:51
>>

 Cultural exchanges good opportunity for China-Colombia ties: Chinese ambassador
By Silvia Zarate
Cultural exchanges will help China and Colombia grow closer together, said Chinese Ambassador to Colombia Li Nianping Friday of January 22 after the first performance of the Jilin Song and Dance Ensemble here.
As two countries are celebrate 36 years of their diplomatic relations next month, there will be an increase in cultural programs and trade missions, Li said, adding that more Colombians are welcome to China for a visit.
"It is a great honor for me to be working in Colombia as our countries grow closer together. The priority now is to unite our efforts to take bilateral ties to a higher level," he told Xinhua. Colombia's annual exports to China have grown 15 times in 10 years.
"Last year, President Xi Jinping spoke with President Juan Manuel Santos to discuss bilateral ties. Our work must see us reach a consensus on future development, including a feasibility study for a future free-trade agreement," said Li.
Another high-level cultural exchange between the countries took place in May 2015 during the visit to Colombia by Chinese Premier Li Keqiang, who was accompanied by Nobel Literature Prize winner Mo Yan.
The Jilin Song and Dance Ensemble was founded in 1943 and is considered one of the finest such companies in China, where it is known for its grand opera and dance productions.
LUANDA  |  2016-01-25 02:15:56
>>  Chinese ambassador says Sino-Angolan ties to reach new high in 2016
By Wang Bingfei
Chinese Ambassador to Angola Cui Aimin said Sino-Angolan ties are expected to reach new levels in the year 2016 despite economic difficulties facing the oil-dependent country caused by stagnant oil prices in the global market.
Speaking at a ceremony in Luanda to mark the upcoming Chinese lunar new year which falls on February 8, Cui said China has provided firm support to Angola in 2015 and the two meetings between Chinese President Xi Jinping and his Angolan counterpart Jose Eduardo dos Santos has further promoted the bilateral ties.
The ambassador said 2016 is the starting year of China's 13th Five-Year Plan as well as an important year for the development of Sino-Angolan ties as the Johannesburg Summit of Forum on China-Africa Cooperation held in December 2015 had ushered in new era of China-Africa relations.
Cui stressed that it conforms with the interests of both China and Angola to establish a new form of relations based on mutually beneficial cooperation.
The envoy called on Chinese companies operating in Angola to explore innovative ways and patterns of business with their Angolan counterparts to boost economic development of the African country in 2016.
NAKURU, Kenya  |  2016-01-25 01:33:09
>>

 Chinese TV decoder boosts popularity of Chinese programs in Kenya
By Wang Shoubao
Kenya's total shift from analogue transmission of the television programming to digital in February 2015 opened a new platform for access to Chinese TV programs.
Esther Wanjiru who works with a tours and travel agency in Nakuru town in Kenya's central Rift Valley region is a big fan of the channel Chinese 2.
"It was a Tuesday, I randomly switched to Chinese 2 was attracted by a program on a woman who was having problems raising a family with a financially struggling husband," Esther told Xinhua on Saturday of January 23.
Wanjiru said she could easily identify with the woman in the program as the story reflected some problems the Kenyan society is currently facing.
Chinese 2, a Chinese TV series channel was rebranded as Sinodrama in December last year after the introduction of Startimes decoder offering Digital Terrestrial Television (DTT) with diverse programs.
Wanjiru thinks it is important to communicate social problems and provide solutions through TV programs.
"It is not easy to deny that our thoughts are shaped by what is published or broadcast in the media," she said.
"That is why I believe it matters most to have programs that remind us of what we are struggling to overcome and give us a sense of direction on how to deal with them,"she added.
For Eric Nyandieka, a businessman based in Nakuru town, Chinese news programs provide him with practical information for doing business.
"I prefer watching news to inform me of the happenings in the business world. And I have come to find CCTV to be a good source of business news and analysis. That is what I need since I am always looking for business opportunities," said Nyandieka who imports printing papers from China among other products.
Recent research shows that by 2014 Startimes DTT had the largest market share of 34 percent in Kenya against the other digital platform providers.
Ben Araka who sells decoders at a supermarket in the town of Nakuru said at least two out of the five people who make enquiries on decoders buy the Startimes.
Startimes is a Chinese communication and network operator which has launched digital TV operation in 16 African countries, covering 80% of the population in Sub-Saharan Africa.
HAIKOU  |  2016-01-24 11:40:56
>>  China's island province Hainan sees double-digit growth in tourists
By Lou Chen, Zhou Huimin and Fu Yongtao
China's island province Hainan has seen double-digit growth in the number of tourists and their spending, authorities said on Sunday of January 24.
Hainan received about 53.36 million tourists in 2015, up 11.4 percent year on year. Tourists' spending reached 57.2 billion yuan (about 8.9 billion U.S. dollars), up 13 percent year on year, said Sun Ying, director of the Hainan Tourism Commission.
Tourism authorities have strengthened cracking down on irregularities in local tourism sector to protect the rights and interests of tourists, Sun said. Nine travel agencies have their licenses revoked in 2015 and were fined 6.83 million yuan in total.
Hainan expects to see a hike in tourists' visits during the upcoming Spring Festival, or China's Lunar New Year, which falls on Feb. 8, when tourists travel to the warm island to escape winter cold in north China.
Sun promised the commission will work around the clock to handle tourists complaints in a timely manner and safeguard the rights of the tourists.
URUMQI  |  2016-01-24 09:42:53
>>

 First direct flight links Xinjiang, southeastern Asia
By Lou Chen and Fu Xiaobo
The first direct flight linking northwest China's Xinjiang Uygur Autonomous Region and a southeastern Asian country, has been launched, sources with the Urumqi international airport announced.
The flight is operated by China Southern Airlines between Urumqi and and Bangkok of Thailand, the airport said in a statement.
Flights are arranged on Tuesday, Thursday and Saturday each week, with a stopover at Lanzhou, capital of northwest China's Gansu Province.
The direct flight shortens the travel time between the two places to around six hours from the previous more than 10 hours when passengers used to transit via Beijing and Shanghai to travel to Bangkok.
In 2015, the Urumqi airport saw the transit of 280,000 passengers, up 35.34 percent year on year.
BEIJING  |  2016-01-24 23:19:51
>>

 Ning Zetao, Liu Hong named China's athletes of the year
By Xiao Yazhuo and Zheng Zhi
Swimmer Ning Zetao and race walker Liu Hong won the Award for Best Male and Female Athlete of the Year respectively at China's Central Television (CCTV) Sports Awards here on Sunday of January 24.
The 23-year-old Ning, also the 2014 award winner, won the world 100-meter freestyle title in 47.84 seconds in Kazan, Russia, on August 6, 2015, becoming the first man from Asia to win a medal of any color in the blue-ribbon event at the world championships since 1973.
Liu Hong, 28, chopped more than one minute off her personal best to win the 20km race walk in one hour, 24 minutes, 38 seconds, a new world record, at the Spanish leg of the 2015 IAAF Race Walking Challenge in La Coruna, Spain in June. She was also the winner of this event at the world championships in Beijing.
The Chinese men's relay team of Mo Youxuan, Xie Zhenye, Su Bingtian, Zhang Peimeng retained the Best Pairing Award while Su, who clocked 9.99 seconds twice in 2015, claimed the Best Breakthrough Award.
The Chinese women's volleyball team, who won the 2015 World Cup in Japan, had the Best Team Award. Their coach, Jenny Lang Ping, was named the Best Coach and also given the Sports Special Contribution award.
Basketball player Zhou Qi, tipped as the hope of the Chinese national team, was named the Best Rookie of the Year.
The annual CCTV Sports Awards has been hailed as the Chinese version of the Laureus World Sports Awards.
BEIJING  |  2016-01-24 22:19:52
>>

 Winners of China CCTV Sports Personality Awards of Year 2015
By Xiao Yazhuo and Zhou Xin
Following are the award winners of the China's Central Television (CCTV) Sports Personality of the Year 2015 announced here on Sunday of January 24:
Best Male Athlete: Ning Zetao, Swimming;
Best Female Athlete: Liu Hong, Athletics;
Best Pairing: Mo Youxue/Xie Zhenye/Su Bingtian/Zhang Peimeng, Athletics;
Best Team: Women's volleyball team;
Best Coach: Jenny Lang Ping, Women's volleyball;
Best Rookie: Zhou Qi, Basketball;
Breakthrough: Su Bingtian, Athletics;
Best Sportsmanship: Beijing Marathon Organizing Committee;
Best Disable athlete: Qi Shun, Athletics;
Best Non-Olympic athlete: Xiong Chaozhong, Boxing;
Sports Special Contribution: Jenny Lang Ping, Women's volleyball.
URUMQI  |  2016-01-24 20:21:08
>>

 World champion Xu takes positive out of injury lay-off
By Wei Hua and Wang Yong
Aerials world champion Xu Mengtao, who was injured at the Chinese National Winter Games here, will be out of action for 10 months and miss the rest of the 2015-16 season.
Xu, the 2013 world championship winner and Sochi Olympics silver medalist, fell on her jump in the women's freestyle aerials final on Thursday while landing. She was taken away on a stretcher and sent to a local hospital for inspection.
"I was told that the cruciate ligaments on my left knee were ruptured and I need about 10 months to recover," Xu told Xinhua on Sunday.
Although Xu is forced to miss the remainder of the 2015-16 season, the 25-year-old has taken some positives out of the lay-off.
"I felt stressed both mentally and physically in the buildup to the 2014 Sochi Winter Olympics. Now I can take a good rest," she said.
With about two years to go before the 2018 Winter Olympics open in Pyeongchang, Xu has enough time to prepare.
"I don't know whether I could keep my top form through 2018, even if I had not injured this time," she said.
"But the Pyeongchang 2018 would be my third Winter Olympics experience, so I really wish a good performance.
"I will try to make good preparations for the Pyeongchang Games."
Li Na, Asia's first ever tennis Grand Slam champion, is Xu's long-time idol. Li's autobiograph "Playing Myself" is one of Xu's favorite books.
"I like Li Na very much. She is tough and ambitious. I think we have somthing in common," said Xu.
"Whenever I encountered difficulties in my sporting career, I would seek courage and help from her experiences."
URUMQI  |  2016-01-24 22:58:42
>>

 Last-place finish an achievement for amateur skater Li at National Winter Games
By Wang Chunyan and Wang Yong
For most athletes who participate in the Chinese National Winter Games, a last-place finish may be disappointing, but amateur speed skater Li Xiang believes he has much to celebrate.
The 14-year-old middle-school student, who represented Xilin Gol city of north China's Inner Mongolia Autonomous Region at the 13th National Winter Games, clocked a combined time of one minute 33.52 seconds (45.96/47.56) in the men's 500m speed skating on Sunday to rank 27th among the 28 competitors. Guo Qiang, a serious medal contender, finished the last place after he fell accidentally in his second skate.
"I've delivered the best of myself today. Before the competition started, my coach predicted my time to be between 48 and 50 seconds," said Li.
Li's coach Wu Hairui was also satisfied. "He has improved his personal best by more than six seconds."
Li was introduced to skating in 2006 when he was just five. For years he could only practice skating skills on a lake ice during the winter season when the temperatures often drop to minus 20 degrees Celsius. In summer days, Li keeps training by roller skating exercises.
"Considering the harsh training conditions, for Li, making appearance at the National Winter Games itself is a big achievement," said Wu.
Li said the National Winter Games has offered him a precious opportunity to learn from the other speed skaters.
"I will analyze the moves of my competitors so as to improve my techniques," he said. "Hopefully, I can skate as fast as they can one day."
Li will be heading back home on Monday. He said he would cherish the memory of competing in Xinjiang.
"The feeling is so great to skate at this beautiful rink. I will miss the rink," said Li.
BEIJING  |  2016-01-24 11:03:45
>>  Guangzhou Evergrande fined 2500 dollars by AFC
By Xu Haitao
The AFC Disciplinary Committee has announced on its website Saturday that Guangzhou Evergrande should pay a fine of 2500 U.S. dollars for violating article 34.4 of the AFC Champions League 2015 Regulations.
The article stipulates that each participating club must hand their player selection list together with officials on the team bench list with the names of the participating officials who shall be entitled to sit on the team bench to the AFC match commissioner at latest ninety minutes prior to the commencement of the match.
The AFC also reminded Evergrande that a repeat violation of this provision will be met with more severe punishment.
BEIJING  |   2016-01-24 23:55:26
>>  Pargo's buzzer-beater nails Guangsha's revenge win over Beijing
By Huang Jie, Wang Chunyan
Jeremy Pargo hit a buzzer-beater three-pointer in Guangsha's 100-97 victory over defending champions Beijing in Sunday's Chinese Basketball League (CBA).
Stephon Marbury put Beijing in lead at 97-95 as he made in a jump-shot with 19.3 seconds to the end of the match. Pargo answered with a reverse lay-up to tie the score at 97-97. Beijing missed their winning chance and could only witness Guangsha revenging for their 104-134 loss in Beijing.
Pargo finished with a match-high 32 points, along with nine assists and three steals. Wang Zheng played a figure role in Guangsha's victory. The center only played the final period but took nine points and drew two fouls. Eli Holman helped with a double-double of 25 points and 13 boards.
Marbury led seventh-placed Beijing with 21 points, same as Zhai Xiaochuan did. Randolph Morris contributed 20 and nine rebounds.
Xinjiang rallied to beat Shenzhen at 97-81. Xinjiang lost their previous two matches and trailed by four after the first quarter. Andray Blatche's 21 led five Xinjiang players with double-figures. He also grabbed 16 rebounds. Li Gen helped with 19 while Bobby Brown led Shenzhen with 25.
Jiangsu beat Jilin 104-83 for their sixth straight victory. Marshon Brooks took a match-high 42 points and put Jiangsu in ninth place but still three games away from the playoff while the regular season has only five rounds to go.
In Sunaday's other matches, Guangdong beat Bayi 99-84 while Aolong lost to Fujian at 112-122. Liaoning defeated Zhejiang 131-106, still in the driving seat of the league. Shanxi beat Foshan 127-118 and Shandong thrashed Qingdao 131-99 in "Shandong Derby". Shanghai lost to Sichuan 112-90 and Tianjian beat Tongxi at 120-93.
TAIPEI  |  2016-01-25 00:48:05
>>

 Cold air brings snow to Taiwan
By Liu Xinyong, He Zili and Wang Junjia
A strong cold front chilled Taiwan from Saturday of January 23 and brought snow to some mountainous areas during the weekend, along with excitement to many people who had never seen snow in the island before.
The cold air came to Taiwan on Friday evening and caused temperatures to drop from Saturday to Monday to lowest level in more than a decade in most parts of Taiwan, the meteorological authority said.
Take Taipei for example, the cold air sent temperature down to 4 degrees Celsius Sunday morning, the lowest level in 43 years.
To many people's surprise, snow visited many mountainous areas in the northern part of the island, including Yangmingshan (or Yangming Mountain) in the northern suburb of Taipei, attracting many people to go uphill to witness the rare sight.
The authority forecast that the temperature in Taipei may fall to 3 degrees early Monday, comparing with an average winter temperature of around 16 degrees..
It has issued warnings for low temperatures and heavy rain across Taiwan, urging the public to take precautions and keep warm before the cold wave leaves the island early Tuesday.
HONG KONG  |  2016-01-24 15:04:03
>>  Experts call for stronger ties between China, U.S.
By Zhang Yashi
The China Energy Fund Committee (CEFC), a non-governmental think tank, convened its ninth Sino-U.S. Colloquium on Sunday in Hong Kong, drawing former government officials and scholars from China and the United States together to discuss security challenges in the Sino-U.S. relationship.
Speaking at the colloquium, which was themed "Sino-U.S. Security Relations: An Agenda for the Next U.S. President," Patrick Ho, deputy chairman and secretary general of CEFC, said China and the United States now face a common mission to redefine their mutual values, waken modern humanity, reshape the world civilization and ultimately lead a Renaissance of modern times.
Ho said that China and the United States have always been friends and they have more in common than in difference, urging both countries to work together on what they have in common, and manage their differences.
He noted that Sino-U.S. cooperation will benefit the world, while the whole world will suffer if relations worsen.
Su Ge, president of the China Institute of International Studies, said China and the United States should strive to avoid a lose-lose situation, which will be beneficial to both countries and an inevitable choice for the good of the international society.
Robert McFarlane, former U.S. national security adviser, suggested the two countries to work together on areas including a nuclear arms race in the middle east, the South China Sea issue and threat of radical Islam.
BEIJING  |  2016-01-24 22:42:46
>>

 Chinese Premier stresses human-centered urbanization
By Xu Feng
Chinese Premier Li Keqiang has urged efforts to deepen human-centered urbanization as it can improve people's livelihoods and boost economy.
"China's greatest development potential lies in urbanization," according to a statement issued on Sunday of January 24 after an executive meeting of the State Council held on Friday.
As a project that has a significant bearing on the improvement of people's livelihoods, urbanization is also conducive to promote effective investment and consumption, which enables a coordinated development between cities and the countryside, the statement said.
The government will make it easier for people from the countryside to become officially recognized urbanites. With the exception of a very few mega cities, restrictions on Hukou, or registered permanent residence, in cities will be fully liberalized for university graduates, skilled workers and returned overseas students.
A regulation that upgrades "residence permit" management, announced by the State Council in December last year and effective from this month, will ensure city dwellers that have not yet acquired Hukou have access to basic public services including education, employment, medical care and legal assistance, according to the statement.
The government will speed up renovation of shantytowns and dilapidated buildings. Supportive policies on shantytown renovations will be expanded to cover major towns across the nation. Private capital is encouraged to contribute to the construction of roads and underground pipelines.
China will also expand the pilot areas for "new type" urbanization, encourage the development of medium and small-sized cities. Pilot projects will be carried out in some towns with a population over 100,000 that will enable them have county-level administration authority, according to the statement.
BEIJING  |  2016-01-24 21:01:45
>>

 Top court launches campaign to enforce judgments
By Wang Di
The Supreme People's Court (SPC) said on Sunday of January 24 that court judgments in more than 60,000 cases had been fulfilled by Jan. 15.
A special campaign to enforce court judgments, which runs from Dec. 1, 2015 to Feb. 15, 2016, targeted cases of public concern, including unpaid wages for migrant workers, compensation for medical damage, and injuries in traffic accidents, the SPC said in a statement.
More than 10,000 people involved in the 60,000 cases have received assistance, with about 170 million yuan (25.9 million U.S. dollars) in court fines paid to victims, the SPC added.
The execution of the judgments has a direct influence on social stability and public attitudes about justice, said Wu Shaojun, an SPC official in charge of court judgment enforcement.
BEIJING  |  2016-01-24 14:18:40
>>  China's electronic information industry grows
By Rong Jiaojiao and Zhao Xiaohui
China's electronic information industry expanded in 2015 thanks to technological innovation and policy, according to the Ministry of Industry and Information Technology (MIIT).
Total revenues of major electronic information companies, or those with annual revenues of more than 20 million yuan, are expected to hit 15.5 trillion yuan (2.3 trillion U.S. dollars) in 2015, double the gross revenues of 2010, said Huai Jinpeng, vice minister of the MIIT.
Innovations such as cloud computing, big data, and the Internet of Things are bringing opportunities to the sector, Huai said.
China's cabinet unveiled its "Internet Plus" action plan in July last year to shape the information technology and traditional sectors into a cohesive, efficient force.
Huai said the ministry will continue to improve Internet infrastructure in the next five years and make broadband Internet accessible in every corner of China to foster new engines for growth and upgrade the economic structure.
BEIJING  |   2016-01-24 14:16:25
>>

 620 mln Chinese surf Internet via cell phone
By Wang Di
About 620 million Chinese, nearly half of the country's population, had used mobile phones to access the Internet as of the end of 2015, an official report showed.
The number of Chinese surfing the Internet via phone increased by 63.03 million in 2015, accounting for 90.1 percent of the total 688 million Internet users in the country, according to the report released by China Internet Network Information Center (CNNIC) on Friday of January 22.
Mobile phones have become a major driver of growth in China's Internet user population, the report noted, adding around 127 million Chinese access the Internet only by cell phone.
Internet coverage expansion has helped improve public services, living standards, and e-commerce.
According to the report, the numbers of people who use mobile payment services, consult doctors online or receive education through the Internet reached 358 million, 152 million and 110 million, respectively, in 2015.
Moreover, about 96.6 million Chinese, or one in 14, ordered a taxi online in 2015, with most using mobile phones to do so, the report showed.
China has 413 million online shoppers. Last year, more than 50 million people tried online shopping for the first time.
BEIJING  |  2016-01-24 12:51:11
>>

 Chinese brokerages see surging profits in 2015
By Rong Jiaojiao
Chinese brokerage firms posted big profits in 2015 boosted by easing measures from policymakers, according to the Securities Association of China (SAC).
Combined net profits of 125 brokerage firms totaled 244.76 billion yuan (36.97 billion U.S. dollars) in 2015, said the SAC.
In 2014, the combined net profits of 120 brokerage firms stood at 96.55 billion yuan, SAC data showed.
The aggregate revenues of 125 brokerages hit 575.16 billion yuan in 2015, compared with 260.28 billion yuan posted by 120 brokerages in 2014.
The benchmark Shanghai Composite Index gained 9.4 percent in 2015 despite wild fluctuations in the summer.
A round of bullish performance started in August 2014, fueled by excessive leverage. By the time of the sudden collapse in mid-June, the Shanghai index had risen over 150 percent since August 2014.
But it started to nosedive steeply, and repeatedly, after it hit 5,178.19 points on June 15, plummeting by 43.5 percent from the June peak to 2,927.29 points on August 26, the lowest level during the market rout.
BEIJING  |  2016-01-24 15:21:04
>>

 Senior CPC official highlights role of think tanks
By Yu Junjie
Liu Qibao, a member of the Political Bureau of the Communist Party of China (CPC) Central Committee, has called on China's think tanks to strengthen professionalism to serve the country's reform and development.
Liu, who is also head of the publicity department of the CPC Central Committee, made the remarks while meeting with representatives from the national council of Chinese think tanks on Friday of January 22.
Liu said think tanks must carry out research in line with the principles advocated by the central authorities and provide constructive suggestions to top decision makers.
China's think tanks should put the needs of the country and the people first and yield results for national development, Liu said.
Liu also urged China's think tanks to deepen research cooperation with international established counterparts and promote mutual understanding and trust.
China's think tanks should be of high quality and competent in the world arena, Liu said, adding they should play a bigger role in increasing China's say in international issues.
BEIJING  |  2016-01-24 15:11:42
>>  CPC publicizes frugality code violations
By Cheng Zhuo
The discipline watchdog of the Communist Party of China (CPC) has named and shamed officials for violations of the Party's anti-corruption and frugality code of conduct.
A total of 88 cases were published in a weekly report at the website of the CPC Central Commission for Discipline Inspection (CCDI), including those involving officials who held lavish weddings or funerals, used public funds for travel or dining, accepted improper gifts or gave improper benefits to subordinates.
Officials who violated the Party's rules in purchasing and using government vehicles were also named and shamed in the CCDI report.
It is the third consecutive week for the CCDI to disclose relevant cases in a weekly report on its website. The CCDI said it will name violators for four weeks starting Jan. 7.
BEIJING  |  2016-01-24 13:46:30
>>

 Chinese procurators vow to crack down on election fraud
By Wang Di
Chinese procurators pledged to crack down on election fraud, including buying votes through bribes, to ensure honesty and fairness in local elections.
Efforts will be continued to investigate and prevent election-related crime, including taking bribes to skew election results, buying and selling official positions, and trading power in exchange for money, according to a statement released Sunday after a national meeting that brought together chief procurators across the country in Beijing.
China saw one of the largest election fraud cases in terms of people and money involved in Hengyang City of Hunan Province in 2013, in which 56 provincial legislators offered 110 million yuan (18 million U.S. dollars) in bribes to 518 municipal lawmakers and another 68 members of staff.
Procurators also vowed to deepen cooperation with overseas law enforcement and judicial agencies in tracking and repatriating Chinese fugitives.
BEIJING  |  2016-01-24 15:51:48
>>

 China vows to fight economic crimes
By Wang Di
Chinese procurators pledged to crack down on economic crimes as the country embraces a "new normal" of slower growth but of high quality.
Procurators will play an active role in regulating Internet finance, and fighting securities and futures-related crimes, according to a statement released Saturday after a national meeting that brought chief procurators from across the country together in Beijing.
Chinese authorities have announced a campaign to regulate Internet finance, which is growing rapidly but threatens social stability due to illegal activity.
Political and legal work departments at all levels will cooperate with banking regulatory authorities to establish a monitoring and warning system against financial risks and enhance information sharing among different regions and departments, according to a statement released at the central conference on political and legal work held Friday to Saturday in Beijing.
Procurators also vowed to protect the legitimate rights of state-owned enterprises, private businesses, small and micro companies, and foreign-funded enterprises equally to encourage business vitality.
Efforts will continue to fight infringement of intellectual property rights as well as crimes involving environmental destruction, according to the statement.
BEIJING  |  2016-01-25 00:43:58
>>

  China to cut crude steel production capacity by 150 mln tonnes: premier
By Xu Feng
Chinese Premier Li Keqiang has reiterated the urgency and the government's resolve to cut excess capacity in steel and coal industries, as the country strives to restructure its economy.
"China will cut crude steel production capacity by 100 to 150 million tonnes," according to a statement issued on Sunday after an executive meeting of the State Council chaired by Premier Li on Friday of January 22.
The State Council didn't specify the deadline for such cut, but pointed out that China has cut its production capacity of crude steel by more than 90 million tonnes in recent years.
China will reduce the production capacity of coal by "a relatively large margin," according to the statement.
"Digesting overcapacity in steel and coal sectors is an important measure to promote the supply-side structural reforms," the statement said, adding that the process will deliver the industries out of trouble and achieve upgrading.
China's production of crude steel fell 2.3 percent to 804 million tonnes in 2015, the first time the industry reported negative growth in 34 years.
Any newly-added capacity in crude steel and coal industries will be "strictly controlled," the statement said.
The government should be fully aware of the importance and challenges in digesting excess capacity, the statement said, adding that the government will introduce necessary measures to help the laid-off workers cope with difficulties and find new employment.
BEIJING  |  2016-01-25 01:03:08
>>

 Chinese banks fear credit risks in industries with overcapacity: report
By Xu Feng and Li Yanxia
The greatest credit risk that Chinese banks faced in 2015 was related to the loans to industries mired in overcapacity, according to a survey released on Sunday of January 24.
Eighty-two percent of bankers said primary credit risks remained in industries such as iron, steel, cement and shipping, according to the survey jointly released by the China Banking Association and the auditing firm PricewaterhouseCoopers (PwC).
Polling more than 1,300 bankers from 116 financial institutions, the survey found that 67 percent of the bankers favor supporting city infrastructure the most, followed by the medical industry, information technology services and transportation. Restrictive credit policies applied to metallurgical, real estate, paper making, textile and ship-building industries.
The survey showed that the bankers are not optimistic about their profit earning efficiency in the coming three years, with 60 percent expecting an annual profit growth at less than 10 percent.
Around half of the surveyed bankers said they will increase investment in the Internet finance.
BEIJING  |   2016-01-24 16:27:48
>>  China sees steady growth in net assets of public sector
By Rong Jiaojiao and Liu Zheng
Total net assets of China's public sector, including government executive departments and state-owned enterprises, stood at 113.8 trillion yuan (17.2 trillion U.S. dollars) by the end of 2014, according to research published on Sunday of January 24.
From 2010 to 2014, the growth pace of the public sector's net assets averaged 8.6 percent, according to the finance research institute under the People's Bank of China, the central bank.
The data showed that the Chinese government has a good foundation for economic control and increasing investment overseas, according to the institute.
It added that the government's net assets were substantial and also demonstrated structural stability and fitness.
The research also showed that the debt risk of the public sector is under control, with debt growth dropping from 26.6 percent in 2011 to 13.2 percent in 2014.
BEIJING  |  2016-01-24 10:53:30
>>

 Beijing to cap population at 23 mln by 2020
By Lou Chen, Liang Tianyun, Wu Mengda, Li Meng and Sun Qi
Beijing will cap its population at 23 million by 2020, officials said during the annual local "two sessions".
The two sessions refer to meetings of the Municipal People's Congress, the local legislature, and the Municipal Committee of the Chinese People's Political Consultative Conference, a local political advisory body.
In the next five years, Beijing will continue to relocate population from downtown areas to suburban areas, said mayor Wang Anshun. Permanent population in the downtown areas will drop by 15 percent from 2014.
The population ceilings have been made according to the maximum capacity of resources such as water, sources said.
Beijing has seen slower population growth in recent years thanks to the efforts in adjustment of city functions and relocation of relevant industries. In the last five years, annual growth rate was 2 percent, compared with 5 percent in previous years, statistics show.
In 2015, Beijing had 21.7 million permanent residents. Beijing aims to limit its population within 22 million in 2016.
In the past decades, Beijing has repeatedly failed its population control targets, as people from across the country flocked to the national capital, attracted by its advantages in economic, cultural, educational and medical resources, among others.
Increasing population adds pressure on local resources such as water and worsens traffic congestion and environment problems.
"It has been difficult to simply force out the people, without finding proper destinations for the relocated population," said vice mayor Li Shixiang, adding that a coordinated development plan of Beijing-Tianjin-Hebei has come as a desirable solution.
Lu Yan, director of the Beijing Municipal Development and Reform Commission, the economic planning body, said Beijing will continue with its relocation plan, and divert its population to new towns and outlying regions.
In 2016, about 300 companies, mainly manufacturing businesses, will be moved out of the city propery. In the next five years, large logistics bases and wholesale markets will be moved out from the areas within the fourth ring road.
Measures will also be taken to ease the demographic pressure on downtown regions.
The Xicheng district will reduce its population by 3 percent in 2016, while the Dongcheng district will limit its population by relocating hospitals and cutting the number of recruits in the technical schools.
Meanwhile, Beijing will continue to move its municipal administrative organs from downtown area to east suburban Tongzhou district next year, said mayor Wang Anshun.
By 2017, some of Beijing's administrative organs will be moved into Tongzhou, he said.
HANGZHOU  |  2016-01-24 11:17:50
>>

 Police net 155 telecom-fraud suspects
By Lou Chen and Zhang Xuan
Police in east China's Zhejiang Province seized 155 suspects in a latest raid of a telecom fraud chain, police sources said on Sunday of January 24.
In November last year, a man surnamed Xu in Haining City of Zhejiang claimed he was cheated of 80,000 yuan (about 12,500 U.S. dollars) by a telecom scam.
An investigation showed that telephone operators were hired to make phone calls and offer free jade wears. The victims were then lured to join a so-called company dealing with jade wears after paying membership fees.
On January 19, police in Haining raided the scam operators in Hefei City, Anhui Province and Kunshan City of Jiangsu Province, and seized the suspects. Police said the ring had been involved in large-scale fraud practice.
Telecom-based fraud, in which suspects cheat people through telecommunication channels, is a growing crime in China. Further investigation into the ring is under way.
SHIJIAZHUANG  |   2016-01-24 14:28:57
>>

 Hebei uses ADB loans to improve air quality
By Lou Chen and Wang Kun
North China's Hebei Province has received 300 million U.S. dollars in policy-based loans (PBL) from the Asian Development Bank to improve air quality, the Hebei Finance Department announced on Sunday of January 24.
The 15-year loan, with an annual interest rate of 1 percent, is the first policy-based loan from ADB to China, the department said in a statement.
Hebei is undergoing major reforms of its energy structure and economic policies. It will use clean energy to replace coal, push for development of public transport and increase the use of bio-fuel in rural areas, the statement said.
The loans will help reduce Hebei's annual coal consumption by about 12.4 million tons, or about 4 percent of the province's total coal consumption in 2012.
They will also help cut air pollutants and greenhouse gas emissions, with carbon dioxide emissions alone reduced by 18 million tons a year against 2012 levels.
The loan is accompanied by expected cofinancing from KfW Development Bank of 150 million euros to support Hebei's clean-air spending.
BEIJING  |  2016-01-24 12:53:27
>>

 Lock-up shares worth 49.5 bln yuan to become tradable
By Rong Jiaojiao
Lock-up shares worth 49.5 billion yuan (7.4 billion U.S. dollars) will become eligible for trade on China's stock markets in the coming week.
About 3.89 billion shares from 38 companies will become tradable on the Shanghai and Shenzhen bourses from Monday to Friday, data from Southwest Securities showed on Sunday of January 24.
Shenwan Hongyuan Group, a Shenzhen-listed financial company, will see non-tradable shares worth around 18 billion yuan become tradable on Tuesday, the largest amount to hit the market in the coming week.
Under China's market rules, major shareholders of non-tradable stocks are subject to one or two years of lock up before they are permitted to trade.
BEIJING  |  2016-01-24 14:03:01
>>

 Eight die, five injured in Beijing bungalow fire
By Lou Chen and Lu Guoqiang
Eight people died and five others were injured after a fire broke out in a residential bungalow area in Beijing, according to the local fire squad.
The fire occurred at a bungalow in Sunhe Township in eastern Beijing's Chaoyang District in the early hours on Sunday.
Firefighters were alerted around 3:24 a.m. Sunday. The flames were put out about one hour later.
The bungalow is a private masonry-concrete strucure house built by local villagers.
The fire occurred as Beijing was hit by the coldest temperatures in years. Investigation into the cause of the accident is under way.
BEIJING  |  2016-01-24 21:40:02
>>

 China renews orange alert for cold wave
By Xu Feng, Lou Chen, Qu Lingyan, Chen Nuo and Hou Wenkun
China's national observatory on Sunday evening of January 24 renewed its orange alert for a cold wave as most parts of the country experienced the coldest weather in decades in the weekend.
China has a four-tier warning system for severe weather, with red being the most serious, followed by orange, yellow and blue.
From Sunday night to Monday night, temperatures in parts of south China will drop 3 to 6 degrees Celsius while the lowest temperatures in the lower reaches of the Yangtze River could reach minus 10 degrees Celsius, according to the National Meteorological Center (NMC).
Temperatures dropped 8 to 16 degrees Celsius from Thursday to Sunday in parts of northwest China, north China and the area between the Yellow River and Huaihe River, said the NMC.
Temperatures in central and eastern China were 6 to 8 degrees Celsius lower than the average historical level, the NMC added.
The southern city of Guangzhou saw rare sleet, the first in 60 years, in its downtown area, the provincial meteorological station announced on Sunday.
Zhejiang Province also recorded a historical low temperature of minus 20 degrees Celsius in mountain areas on Sunday. Temperatures dropped by as much as 15 degrees Celsius in the province.
In Hangzhou, capital of Zhejiang Province, civilian rescue groups participated in the emergency response. About 140 members of a group called the "Goat Team" have helped remove snow and defrost city streets.
The worst cold snap in years led to at least four deaths as it swept across central and southern China on Sunday.
In Changfeng County in east China's Anhui Province, four strawberry farmers died of carbon monoxide poisoning early Sunday morning when they turned up heating in a plastic greenhouse. Another six remain in the hospital.
The cold coincided with the beginning of a 40-day travel rush for the Spring Festival, which falls on Feb. 8 this year. Highway sections in northeastern and southeastern Yunnan Province, where snow and sleet have made travel impossible, have been closed.
Airport authorities and airlines are struggling to divert about 11,229 passengers who have been stranded at the Kunming airport since Saturday.
Snow and sleet will last through Monday in Yunnan.

4,118 Comments