How Chinese scientists caught up in the genome race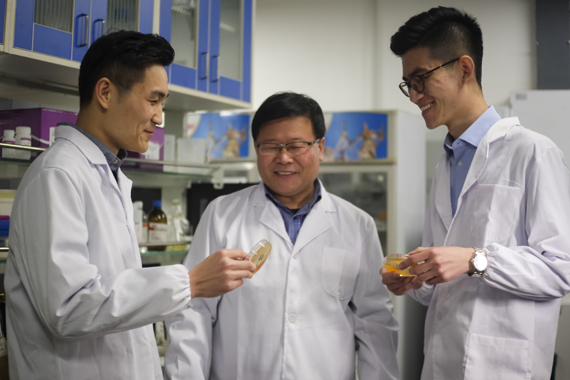 File photo taken on January 5, 2013 shows Professor Yuan Yingjin (center) and members
of his research team exchange views at the laboratory of Tianjin University in Tianjin, north
China.    Photo – Xinhua
TIAN

JIN

 |  2017-03-29 19:33:46
How

Chinese

scientists
caught up in the genome race

 
By Yuan Quan, Zhang Jianxin and Jia Zhao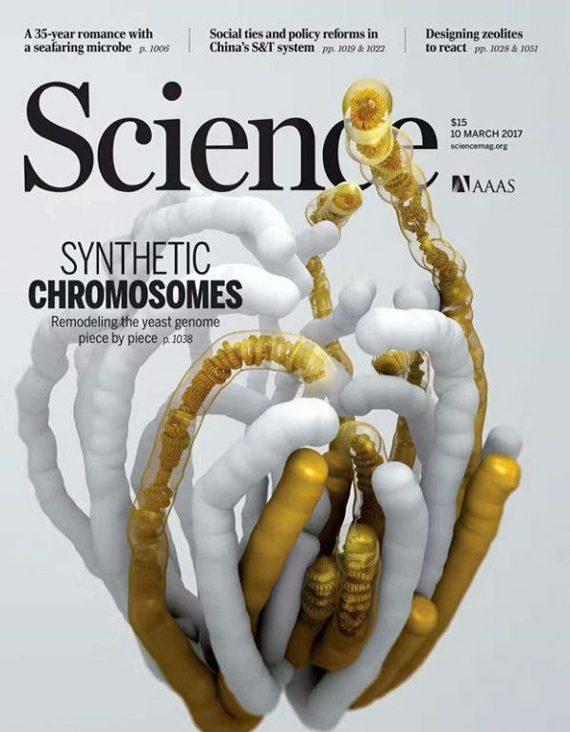 When Yuan Yingjin turned 54 on March 10, he had two unusual presents: some yeast chromosomes and acclaim in China's national news.
That day, research into assembling four synthetic yeast chromosomes, completed by his Tianjin University research team and scientists at Tsinghua University and BGI-Shenzhen, was published in the journal, Science.
The achievement made China the second country after the United States capable of designing and building eukaryotic genomes.
Yuan's team contributed most in the findings, constructing two synthetic active chromosomes by exactly matching the synthetic genome with the designed sequence for the first time.
"Synthetic yeast chromosomes will facilitate studies on chromosome abnormity and repair of the genome, providing models for research and treatment of medical challenges such as epilepsy, cancer, mental disability and aging," Yuan says.
OVERCOMING SKEPTICISM
A chemical engineering major, Yuan recalls the completion of the world's first human genome sequence map in 2000 and thinking that life sciences were set to take off.
The same year, the Internet also began to rise in China. Major Chinese portal sites, such as Sohu and Sina, landed in U.S. capital market. Today, China's online landscape is huge with its rising Internet companies, innovation and the world's largest web population.
Yuan thought biology would also start to develop rapidly as people with different educational backgrounds connected to study and expand its applications.
After reading many foreign academic papers and visiting labs at the world's leading universities, Yuan focused on synthetic biology, which, he thought, would provide solutions to energy shortages, pollution and diseases.
However, few people shared his vision a decade ago. "Many doubted that synthetic genomes had a future," Yuan recalls. "They misunderstood it as copying, but it is actually about redesign." He spent years persuading other scientists and officials to invest in the field.
U.S. scientists also faced skepticism at that time. Jef Boeke, professor of biochemistry at New York University, launched a synthetic yeast genome project in 2007, aiming to modify the yeast genome with a series of densely spaced designer changes.
Brewer's yeast has long served as an important research model because its cells share many features with human cells, and are simpler and easier to study.
Until 2014, Boeke's team had assembled the first yeast chromosome. But it cost more than 60 researchers working on seven years.
He invited other U.S. labs to join the project, but they showed little interest. "I did try, but people thought it was impossible, crazy, a waste of money," Boeke told Xinhua in an e-mail interview.
In 2010, American researchers implanted a synthetic genome in a prokaryotic bacterium, marking the first step in the chemical synthesis of live organisms.
In the same year, Boeke began seeking help from abroad, to contribute expertise and to shoulder the substantial costs.
In 2010, China overtook Japan as the world's second largest economy. In the 12th Five-Year Plan for National Economic and Social Development (2011-2015), synthetic biology was given top priority on the cutting-edge scientific research list. It was followed by dark matter.
In 2011, Yuan joined the project, and helped Boeke to build a consortium that attracted scientists from Britain, France, Singapore and elsewhere. Yuan and his team undertook the job of assembling two chromosomes. A year later, he successfully applied for national funding.
BUILDING BLOCKS OF LIFE
The study has laid a foundation for the design and building of more complex cells of multi-cellular organisms, including animals, plants and fungi.
Yuan compares his synthetic chromosomes study to "constructing a building." Before joining the synthetic yeast genome project, Chinese scientists had mainly focused on the "bricks," or DNA. "We didn't have the confidence and courage to think about building the foundations," Yuan says.
In the past five years, Yuan has sent many exchange students from Tianjin to U.S. universities to learn synthetic technology, and brought the "Build-A-Genome" course to China.
"It was not a one-way flow of information at all," says Boeke. "Chinese scientists also brought some great ideas to us, such as the study documented in Science."
Xie Zexiong, 27, responsible for constructing chromosome SynV, faced a predicament in 2014 when he and other researchers failed to find what was killing the synthetic genome. At first, he thought it was incorrect manipulation. But after 18 months of testing and building, he found the problem lay in the original design, which lacked a DNA sequence.
U.S. scientists were skeptical until they did the test themselves. His discovery was then applied to synthesizing other chromosomes.
George Church, professor of genetics at Harvard University, said the redesign and re-engineering of the SynV chromosome was "perfect."
"Since then their skepticism of Chinese students appears to have evaporated," says Xie.
Wu Yi, 28, the first author of the SynX paper, discovered a new method to quickly identify and eliminate bug sequences, and it is now applied to other chromosome research.
He remembers the day he shared his debugging tools in the United States with researchers from around the world. The audience, including professors and leading scientists in synthetic biology, applauded. "I was a bit humble at first because it was I who developed the most efficient bug mapping method by far," says Wu.
Yuan attributes the success of his team to hard work and global cooperation. "We would struggle to do it alone, even with 10 times as much financial support."
"Chinese teams learned from others' experiences at first, but also worked hard and contributed to the whole study. Because of this, we won the respect around the world."
China aims to become a leading power in science and technology by the middle of this century, and is endeavoring to speed up innovation in all fields and seize the initiative in global competition.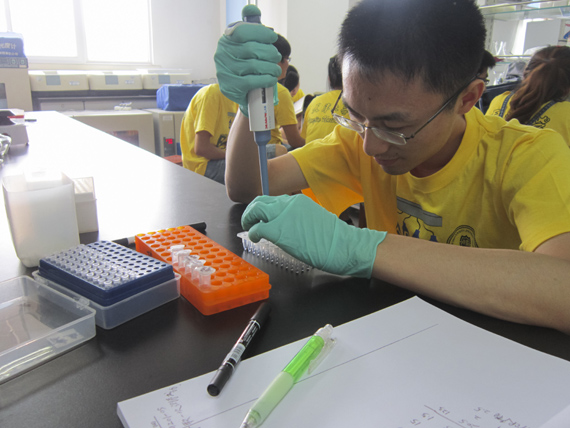 File photo taken on July 23, 2012 shows a researcher with the Tianjin University's Yuan
Yingjin team working at  the laboratory of Tianjin University in Tianjin, north China.
Photo provided by Yuan Yingjin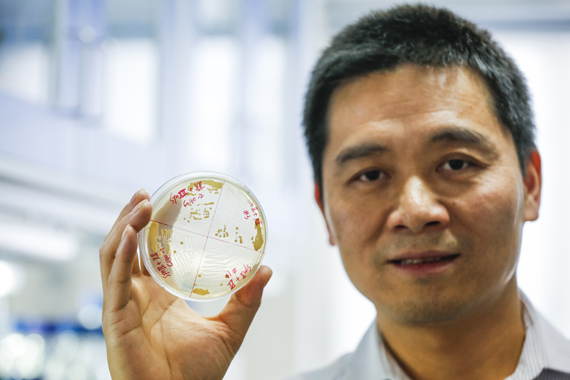 Dai Junbiao, head of Tsinghua University's research team, shows the yeast at the laboratory
of Tsinghua University in Beijing, capital of China, on March 9, 2017.   Photo by Shen Bohan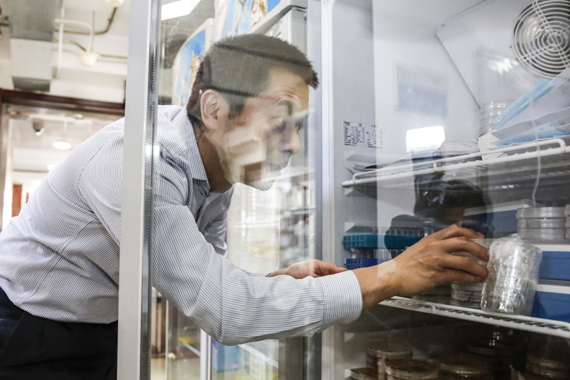 Dai Junbiao, head of Tsinghua University's research team, checks the yeast at the laboratory
of Tsinghua University in Beijing, capital of China, March 9, 2017.   Photo by Shen Bohan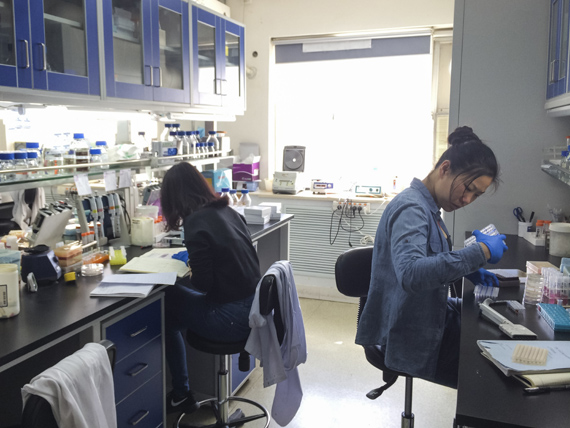 Researchers with the Tsinghua University's Dai Junbiao team work in the laboratory of
Tsinghua University in Beijing, capital of China, on April 1, 2016.   Photo by Dai Junbiao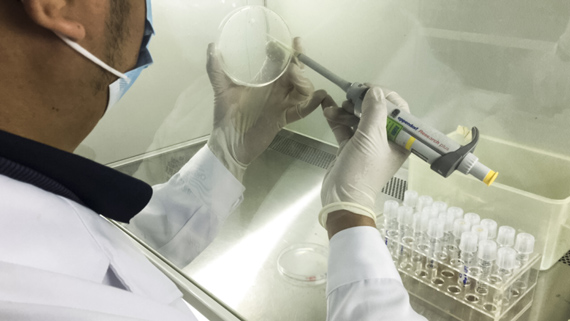 A researcher with BGI-Shenzhen tests the yeast in the experiment at BGI Research in Shenzhen,\
south China's Guangdong Province, on March 10, 2017.   Photo – BGI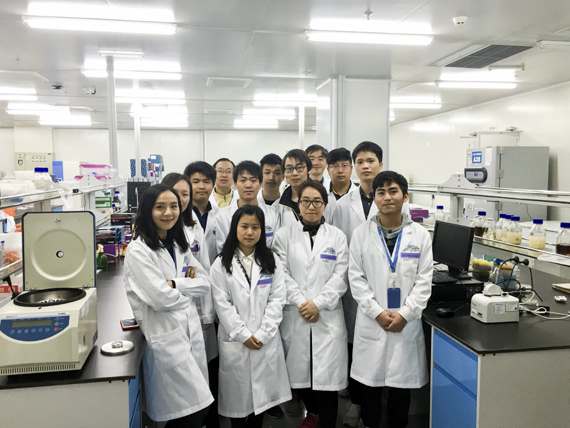 Researchers with BGI-Shenzhen pose for a group photo in the laboratory of BGI Research
in Shenzhen, south China's Guangdong Province, on March 10, 2017.   Photo – BGI 

3 Comments