Xinhua reporter dives into the unknown with "shooting stars" and dancing sea cucumbers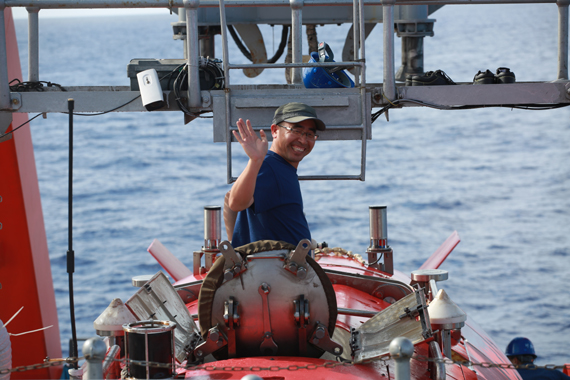 Liu Shiping waves as he walks out of submersible Jiaolong on May 23, 2017. China's manned
submersible Jiaolong finished a dive in "Challenger Deep" in the Mariana Trench, the world's
deepest known trench, on Tuesday of May 23. Xinhua News Agency journalist Liu Shiping
descended inside the submersible along with scientists to 4,811 meters below the sea's surface.  
Photo by  Guo Songjiao
ON BOARD SHIP XIANGYANGHONG 09

 |  2017-05-25 01:43:26
Xinhua reporter
dives into the unknown
with "shooting stars" and
dancing sea cucumbers
By Zhao Xiuzhi and Liu Shiping
Jiaolong, China's manned submersible, conducted a dive in the Mariana Trench on Tuesday of May 23, with Xinhua News Agency journalist Liu Shiping on board. This is his recollection after coming back to the mothership Xiangyanghong 09.
On May 23, 2017 at 1 p.m. sharp, after nearly six hours in the Mariana Trench inside China's submersible Jiaolong, I said goodbye to the bottom of the sea and reached the sea surface 156 minutes later.
Diving along with scientists to 4,811 meters below the sea's surface, in the world's deepest known trench, was a journey full of wonder and surprises.
The dive took place at the northern slope of the Mariana's "Challenger Deep," and the whole dive lasted 8 hours and 50 minutes.
Riding inside Jiaolong, I felt like I was sitting in a spacecraft, roaming the sky, and seeing "shooting stars" passing by.
Those "shooting stars" quickly turned into "meteor showers" when Jiaolong reached a depth of about 400 to 500 meters.
The stars were likely euphausiid plankton, which were possibly frightened and darting away from our intruding submersible.
Tuesday's operation was the first of Jiaolong's five dives in the third stage of China's 38th oceanic expedition.
Named after a mythical dragon, Jiaolong reached a maximum depth of 7,062 meters in the Mariana Trench in June 2012.
We were definitely not alone — fish, shrimp, sea cucumbers, starfish, sponges and others inhabited the deep sea world.
What impressed me most were the "dancing sea cucumbers."
They were so big and so beautiful. When they ran away from our submersible, they looked like elegant dancers in the ocean.
At 11:21 a.m. local time, a 30-centimeter-long purple sea cucumber swam near Jiaolong, and suddenly it started to move quickly.
"It must feel the movement of our machine and think we are enemies," a scientist told me.
Bang! It hit the mechanical arms of Jiaolong and dropped into the sample box of the submersible.
"This is a first in our 60 dives! A sea animal ran toward us rather than away!" said Tang Jialing, chief crew member of Tuesday's dive.
Collecting rocks in the trench was another important task for Jiaolong and its two mechanical arms.
But nature never lets us get what we want easily.
When we were at a depth of 4,792 meters, a long black rock drew the attention of the scientists. Tang ordered the mechanical arms to reach for the rock.
The mechanical arms grabbed the huge rock very easily, which surprised the team.
It turned out not to be a rock, but a clump of soft sediment. This happened a few more times during our expedition, and we nicknamed those fake rocks "liars."
After nearly nine hours of hard work, the scientists made observations, took photos and video, sampled and surveyed, and collected seawater, rocks and samples of marine life, including a sea cucumber, a sponge and two starfish.
Being the world's first journalist to dive deep into the Mariana Trench was certainly my coolest and most unforgettable experience.
The "stars," the "dancers," and the "liars" — they all still roam in my mind.
In the deep sea surrounded by darkness and quiet, they made me feel the existence and pulse of life.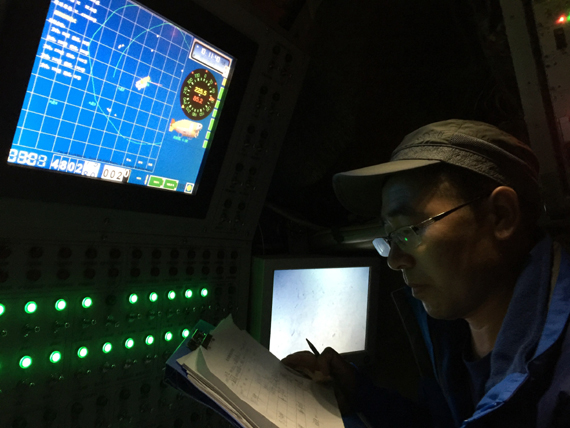 Liu Shiping registers samples during a dive in the Mariana Trench on May 23, 2017.  
Photo by Tang Jialing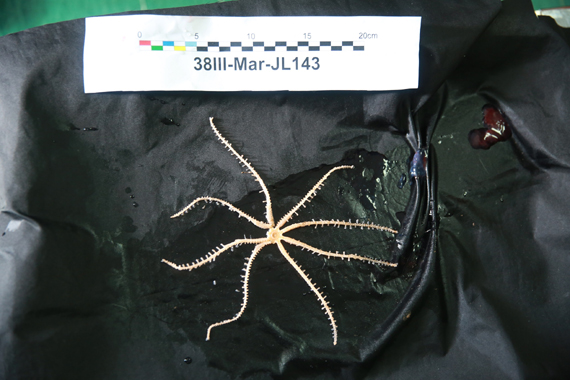 Photo taken on May 23, 2017 shows a starfish sample collected by submersible Jiaolong
in the Mariana Trench.   Photo by Guo Songjiao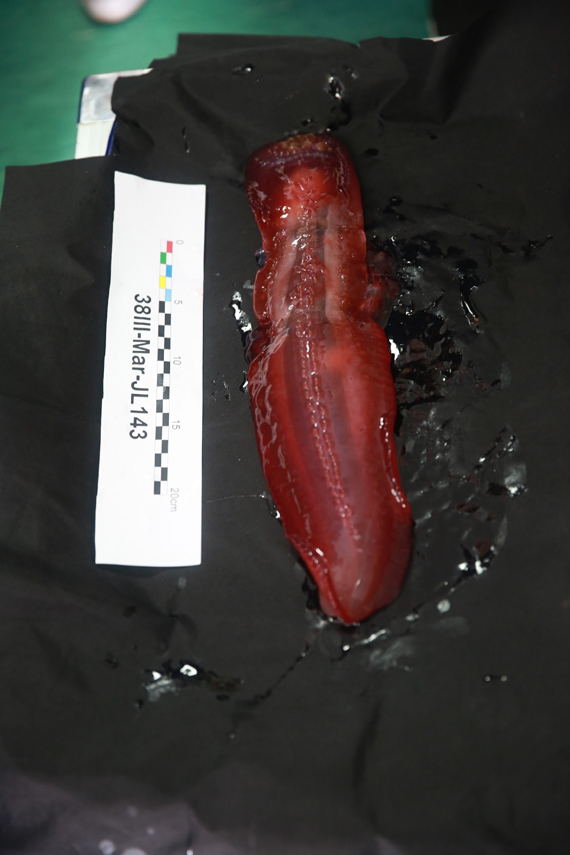 Photo taken on May 23, 2017 shows a sea cucumber sample collected by submersible
Jiaolong in the Mariana Trench.   Photo by Guo Songjiao

144 Comments