Late science "lunatic" Huang Danian: never go gentle into that good night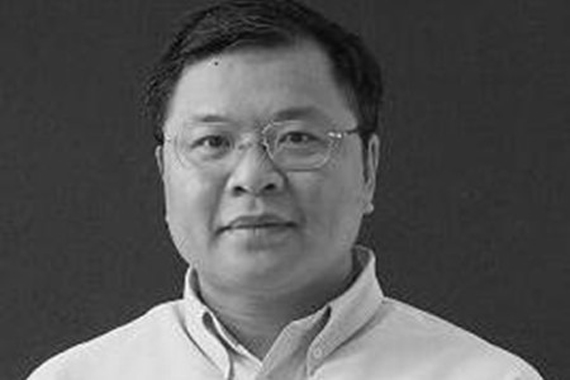 Huang Danian
CHANG

CHUN

 |  2017-05-19 20:27:11
Late science "lunatic"
Huang Danian:
never go gentle into that good night
By Hu Longjiang, Zhao Xiuzhi, Wu Jing, Chen Cong, Zhou Liquan and Zhang Jian
Danian lost consciousness in a hospital in northeast China's Changchun on January 4, just as his daughter, Huang Xiao, was giving birth to his grandson in London.
"Take a picture of Chunlun, and show him to my father," Huang Xiao said to her husband.
Huang Danian, a noted Chinese geophysicist, chose the name "Chunlun" for the baby before he was born. "Chun" is a reference to Changchun, and "lun" refers to London, which is pronounced "Lundun" in Mandarin. The two cities were Huang Danian's favorites.
But Huang fell into coma and never woke up to see his grandson, who looks a lot like his grandfather, according to the family.
On January 8, Huang died of bile duct cancer at the age of 58. A bright star of the sciences fell, leaving the science community with grief.
Huang, known for his expertise in deep earth exploration technology, studied and worked in Britain for 18 years before returning to China in 2009. Over the ensuing seven years, he helped China soar in a number of technical fields, transforming the nation into one of the world's leaders in developing deep earth exploration equipment.
Born in August 1958 in south China's Guangxi, Huang had an interest in geophysics since childhood, a passion passed down from his parents, both of whom taught at a local geology institution. He went to Britain for further study in 1993.
Huang worked as a senior geophysicist at ARKeX, a company in Cambridge, leading a team of scientists to make breakthroughs in key earth exploration technology.
Huang devoted his life to science and made many sacrifices along the way. His cancer went undetected as he was constantly working, causing him to miss the key window for treatment. He also missed his chance to say goodbye to his parents.
In 2004, his father was hospitalized due to serious illness, but Huang was working on a key experiment some 1,000 meters below the sea's surface. He finished the experiment in tears, and by the time he got to shore, his father had already been buried.
Two years later, while working on a similar experiment at a U.S. military base, he learned that his mother had been sent to the hospital. During their last phone call, his mother told him to take care of himself and return soon, according to his family members. He had long wished to go back and do something for his country, his brother said.
In 2008, China launched a national recruitment program for global top talent, called the "Thousand Talent" program, as part of its efforts to become an innovation-driven economy. The program encourages overseas Chinese and foreign professionals to work in China.
Huang became one of the first to participate in the program. He gave up his position in Britain and sold his house and property to work at Jilin University in Changchun.
It was hard to leave his colleagues in Britain.
"I should go as my country needs me," he said in an email to a friend at Jilin University. He said that no matter how successful he was abroad, the biggest satisfaction would be improving his home country.
"Based on my understanding of him, he also thought he had hit a ceiling in Britain, so by returning to China he could challenge himself in his career while devoting himself to the motherland," said Gao Ping, a science official who first contacted Huang for the talent program.
With strong government support and an improved scientific research environment, China has attracted more than 6,000 academics and researchers from abroad through the recruitment program.
Upon return, Huang was invited to be the chief scientist of a branch of China's biggest deep earth exploration program. The program aims to install high-tech cameras on aircraft, ships and satellites that enable them to see through the earth's crust without digging into it. Investment in his branch of the program has reached more than 300 million yuan (43.5 million U.S. dollars).
Wasting no time, he holed up in his office and worked day and night. He set up a laboratory and bought drones out of his own pocket for research.
Once, Huang lay down in front of a massive truck of city inspectors who, thinking it was an illegal building, wanted to demolish the hangar he used for testing drones.
Some called him a lunatic.
"China needs 'lunatics' to become stronger. I would be satisfied if I could be one of them," Huang once said.
The lunatic's madness paid off. Through the program, China has greatly narrowed its gap with developed countries in obtaining accurate data on deep earth exploration.
Thanks to a number of devoted scientists like Huang, China is becoming a leading world power in technology.
The country landed its lunar probe "Yutu" on the moon in 2013. It sent the Shenzhou-11 spacecraft and Tiangong-2 into space in 2016 for a planned space station. The country's manned submersible, Jiaolong, reached its deepest depth of 7,062 meters in the Mariana Trench in June 2012 and has conducted deep dives in the South China Sea over the last month.
Huang began fainting frequently in 2012. Teammate Wang Xianchang once warned him not to kill himself through work. Huang later posted on his WeChat moments saying, "Living a day, I am gaining a day. The day I fall, bury me where I fall."
Despite his worsening health, he did not want to "go gentle into that good night."
"In the scientific race, a good scientist always feels a strong sense of insecurity, fearing that he will be left behind," said biologist Shi Yigong, an old friend of Huang.
Early on the morning of Nov. 29, 2016, Huang fainted again and was sent to a hospital after arriving on a red-eye flight to Chengdu in southwest China. He had been too busy to eat anything the previous day.
Several hours later, he devoured a handful of pills and left the hospital for "an important meeting," the doctors said.
Later, Huang was "forced" by his family members to undergo a medical examination in Changchun. He went for meetings again in Beijing before the examination results came out.
He was found to have bile duct cancer, with tumors on his stomach and liver.
During his last days in the hospital, Huang still tried his best to answer his students' questions while receiving a transfusion, assigning work and writing recommendation letters for his colleagues.
"Our country is in urgent need of talented people. If we spend more time and pay more attention to the young, masters and even Nobel winners may rise among them," he told his colleagues.
The last time his daughter Huang Xiao saw her father was at her wedding on May 8, 2016, in London.
"We danced. That was our first dance together, and the last," said Huang Xiao.
At Huang's funeral, more than 800 friends, scientists and students from all over the world came to mourn the loss.
Huang's students told Xinhua that it was not a goodbye, as his words continued to stick with them.
At Huang's former office, his assistants Yu Ping and Wang Yuhan sat on chairs quietly, as if they were waiting for Huang to return from a business trip.
The ringing of the telephone interrupted the quiet. They picked up the phone and told the callers, "He is gone."
BEIJING  |   2017-05-25 17:33:40
Xi hails late Chinese geophysicist
Huang Danian, stresses patriotism
By Yang Hui and Wang Di
President Xi Jinping has asked society to learn from renowned geophysicist Huang Danian, who made outstanding contributions in education and scientific research.
Xi, also general secretary of the Communist Party of China Central Committee and chairman of the Central Military Commission, made the remarks in a written instruction praising Huang's contribution to the nation.
Xi said Huang devoted his life to national prosperity and revival and people's wellbeing.
He called on the public to follow the example of Huang, learning from his patriotism, professional dedication, and the noble spirit of being indifferent to fame and wealth while dedicated to the country.
"People should put their patriotism and aspirations into the great course of reform and development," Xi said, asking ordinary people to do their jobs well, and contribute to the realization of the nation's two centenary goals and the Chinese dream of national rejuvenation.
Huang, known for his expertise in deep earth exploration technology, studied and worked in Britain for 18 years before returning to China in 2009. Over the ensuing years, he helped China soar in a number of technical fields, transforming the nation into one of the world's leaders in deep earth exploration.
Huang died from illness aged 58 on January 8.