The last stand of traditional Mongolian bow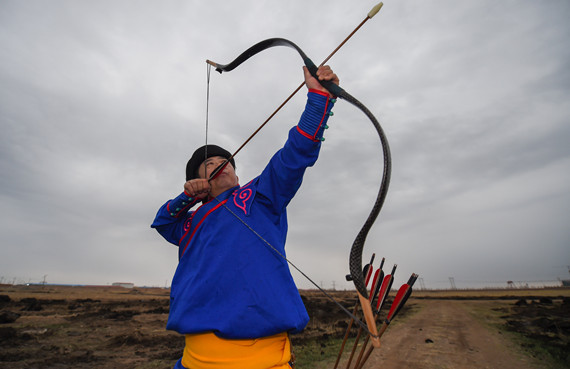 Nominqolu tries shooting a new bow.   
HOHHOT  |  2017-06-09 01:02:02
The last stand of
traditional Mongolian bow
By Cheng Lu and Wei Jingyu
If not for Nominqolu, the bow that enabled Genghis Khan and his Mongolian horsemen to create one of the world's greatest empires eight centuries ago, would have disappeared.
"Each Mongolian warrior carried three bows when he went into battle. But in 1999, only 20 or so of those traditional bows could be found in the whole of Inner Mongolia," Nominqolu, 55, told Xinhua ahead of Chinese Cultural Heritage Day, which falls on Saturday.
After more than a decade of hard work, almost single-handedly, Nominqolu has revived the techniques of bow-making and brought traditional Mongolian archery back to major sports events and beyond.
TIME'S ARROW
Nominqolu's journey began 18 years ago. As an editor on a Mongolian channel of an Inner Mongolia Autonomous Region TV station, he was assigned to cover the Naadam in Chifeng City in the summer of 1999.
Naadam — literally "games" — are held on special occasions when the grasslands are at their most lush, and consist principally of the eriin gurvan naadam (the three games of men): wrestling, archery and horse racing.
When he arrived at the field where the traditional archery competition was to be staged, he saw nothing and thought he had missed the event. But the games' staff told him that the event had not started yet because, "the old man who owns the bow is yet to arrive."
After what seemed like an age, an ambling ox cart with a man at his sixties on board came into sight. He held a black bow, passed down from his ancestors, across more than 200 years.
It was the only Mongolian bow in the nearby prairies. In the competition, more than 10 archers used the bow in turn.
"In the past, every Mongolian boy had a bow. He stood against the bow to measure his height as he grew; he carried the bow everywhere throughout his nomadic life," said Nominqolu.
Archery and bow-making skills went through a 50-year hiatus as modern sports usurped them and through the tumult of the Cultural Revolution.
The Chinese National Games were first held in 1959 and archery had its own international standards which applied to the modern, composite bow. People stopped using and making the traditional Mongolian bow.
"Traditional archery should not be absent from the Naadam," said Nominqolu, who was determined to revive bow-making.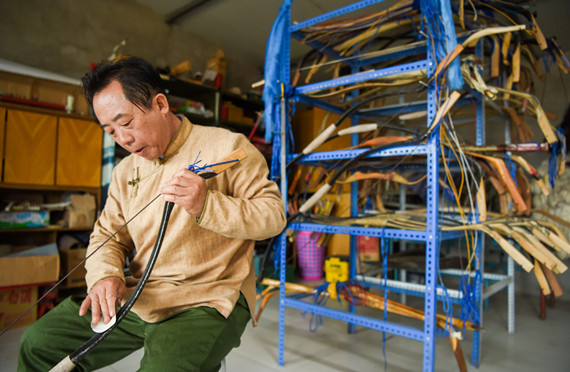 Nominqolu polishes a bow.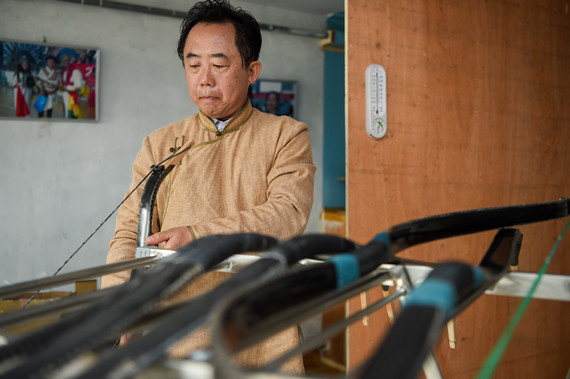 Nominqolu checks up a bow ahead of delivery to his client.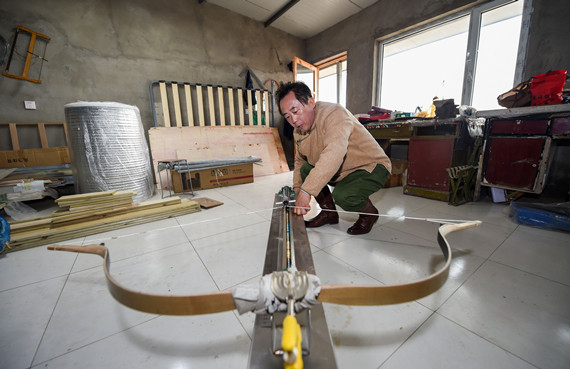 Nominqolu stretches a bow to test its pulling force.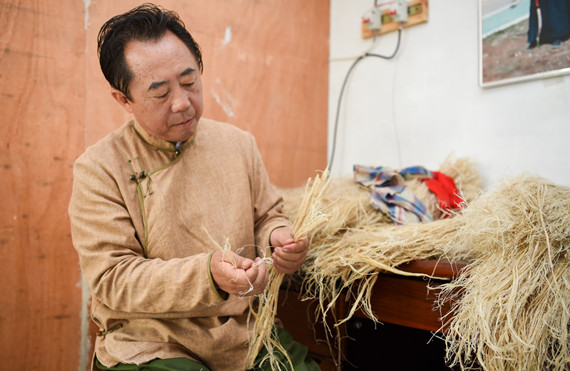 Nominqolu  carefully chooses sinew for bow-making.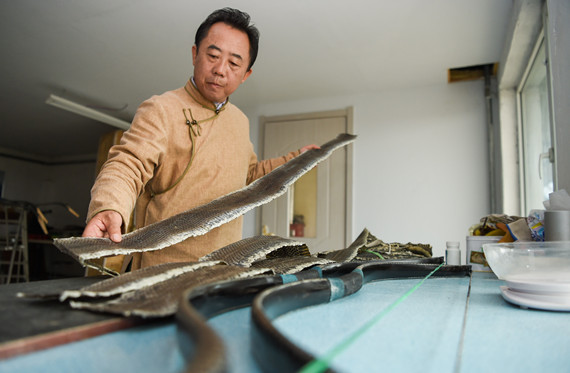 Nominqolu picks out a piece of snake skin  to match a new bow.
DISTANT TARGET
Nominqolu was a little late. There were no craftsmen in Inner Mongolia who could tell him how to make a real traditional horn bow, so in 2005 he sold his apartment and went to the neighboring country of Mongolia.
With the proceeds of the sale he learned bow-making from two craftsmen there. Then Nominqolu rented an old warehouse owned by an Inner Mongolia acrobatic troupe, who, when they found out what he was doing there, refused to collet rent from him.
"The horn bow the troupe used in their signature performance 'Archery' was worn out and they could not find a new one, which meant that 'Archery' might have to exit the stage," recalled Nominqolu. "They hoped for the revival of the legendary Mongolian bow."
There are more than 100 steps to making a bow. Only natural products are used, including horn, sinew, snake skin and birch bark. But as protection of wildlife increased, Nominqolu was forced to make adjustments to his bow-making materials.
"Traditional Mongolian bows used antelope horn and python skin, which are under state protection. So I replaced them with buffalo horn and common snake skin," he said.
Nominqolu's innovative instincts led him to experiment, and he found that buffalo sinew obtained in spring was more elastic and horn became more rigid in autumn.
The entire bow should be covered in a layer of snake skin or birch bark, which forms a waterproof seal.
He practiced cutting birch bark for years. "Twenty-plus years old birch is the best, and I need to cut the bark without damaging the protective layer underneath," he said.
Nominqolu completed his first bow in 2007. He obtained a national patent two years later. In 2011, traditional Mongolian bow-making was listed as intangible cultural heritage in China.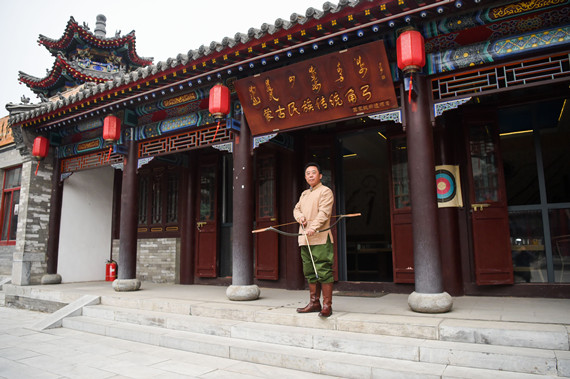 Nominqolu, holding a bow and arrow, stands in front of his traditional Mongolian
horn bow museum.
LIVE LONG AND PROSPER
The traditional Mongolian bow has been revived, but Nominqolu wants its survival guaranteed.
Twenty-two years after leaving school, he returned for the sake of the bows and took a master's degree in Inner Mongolia Normal University to figure out the historical development of the traditional bow. After three years of study, he worked out the rules of traditional archery and trained judges, to normalize the sport.
In July 2009, seventy-eight archers carrying bows made by Nominqolu appeared at the Inner Mongolia Fitness Fair, the first time the sport had appeared in a major competition for decades.
"Sport for all means that everyone can participate," said Nominqolu, who is tireless in his quest to popularize the Mongolian bow and archery.
He set up a Mongolian bow museum which displays the bows and arrows he has collected. He has made special bows for children.
"Children are more willing to participate if they are able to draw a bow," he said.
Nominqolu means "green stone" in Mongolian. "I want to be a paving stone on the path to the revival of the Mongolian bow, and make sure it lives on forever," he said.
*

 

All photos taken on April 7, 2017 by Lian Zhen 

7 Comments