Cycling to share the gift of life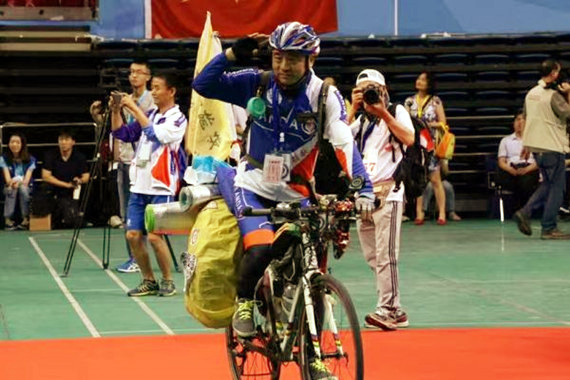 Wang Zhengwei rides at China Transplant Games held in Peking University on June 11.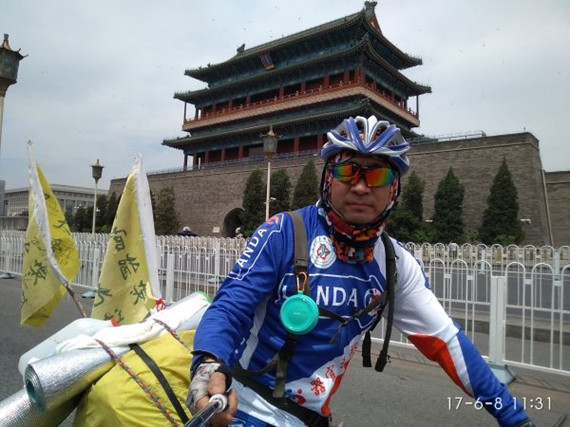 Wang Zhengwei snaps a selfie in front of Qianmen city gate nearby the Tiananmen Square.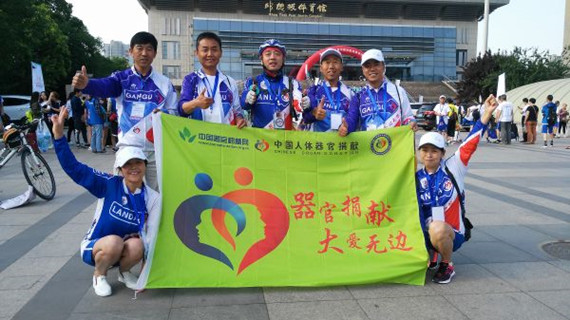 Many people are very supportive to Wang's journey by waving flags printed with the
logo of "Organ Donation".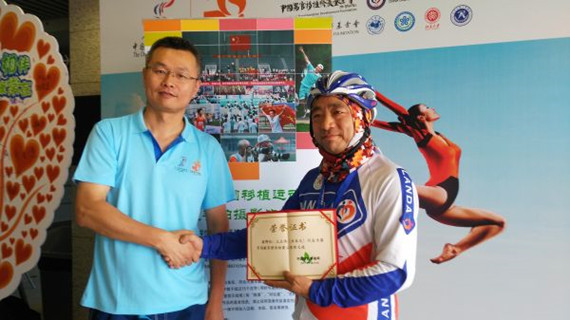 Wang Zhengwei (right) is  awarded as "Ambassador for Organ Donation" by China
Organ Transplant, an NGO comprising with thousands of transplant patients.
BEIJING  |  2017-06-27 10:43:44
Cycling to share
the gift of life
By Yuan Quan and Gao Bei
Many amateur cyclists ride for the love of it, but Wang Zhengwei aims to save lives too.
Wang, 45, has spent 16 days riding 1,500 kilometers from northwest China's Gansu Province to Beijing before competing with other organ transplant patients at China Transplant Games in early June.
His sportswear and flags tied to his bike bore huge "Organ Donation" logos to draw attention to the cause that has saved thousands of lives – including his own.
Diagnosed with end-stage liver cirrhosis in 2008, Wang received a transplant after waiting three months in hospital. "That was a very difficult time," recalls Wang, who sold his home and went heavily into debt to pay the 500,000 yuan for the treatment.
Six months later, he went back to work, but he has been on medication ever since. Doctors recommended physical exercise to keep healthy. He tried climbing, jogging and other sports before falling in love with cycling.
"It's not only good for the body, but enables me to go different places and meet more people," he says.
Starting with short rides on streets or parks near his home, Wang challenged himself to ride further and faster. In the past seven years, he has travelled 40,000 kilometers. His longest trip lasted 20 days in Qinghai last year.
Wang loved to share his story on the road at first, but he soon realized that few people knew much about organ transplants and donations.
"Raising public awareness is a more meaningful thing to do," he says.
China banned transplants of organs from executed prisoners in January 2015, and voluntary donations have been the only source of organs since then.
Though the number of people willing to donate their organs is growing fast, it is still far from enough. About 300,000 Chinese are on the waiting lists, but only over 10,000 receive surgery each year.
Along the journey, Wang often stopped to talk and hand out flyers about organ donation.
Not everyone approved. Some suspected he was involved in organ trafficking, and many conservative elderly folk still firmly believe in the Chinese tradition of burying the dead intact.
It is still a question of personal ethics whether someone wants to donate their organs after death, says Liu Yuan, organ coordinator of Beijing Youan Hospital.
To his disappointment, some patients criticized Wang for "riding only to make a name for himself", after he began crowd-funding online to support his journey.
Wang's family and friends, however, support him and are proud that he chooses to ignore the naysayers.
Wang claims he only feels a responsibility to show how transplant patients recover and regain their confidence.
"I don't try to persuade people to donate, only to tell how many lives have been saved by others' organs."
His hard work has moved others. Street vendors bring him fruit and water; bike stores offer free repairs; doctors give him handouts.
He was named an "Ambassador for Organ Donation" by China Organ Transplant, an NGO comprising of thousands of transplant patients, earlier this month.
"I am very proud of him," says Chen Lei, the organization's founder and a liver transplant patient.
China started organ transplants in the 1960s. According to the China Organ Transplant Development Foundation (COTDF), 10,058 transplants were performed in 2015, ranking China second in the world after the United States.
Since China launched an organ donation system in 2010, around 10,000 people have donated 28,000 vital organs after death. Since December 2016, more than 170,000 people have signed up to a donor registry created by the foundation, including Wang.
He also dreams of forming a team with other transplant patients to ride together. "I can't work alone. Raising awareness needs everyone's efforts," he says.
"But I will keep on riding and passing on the love."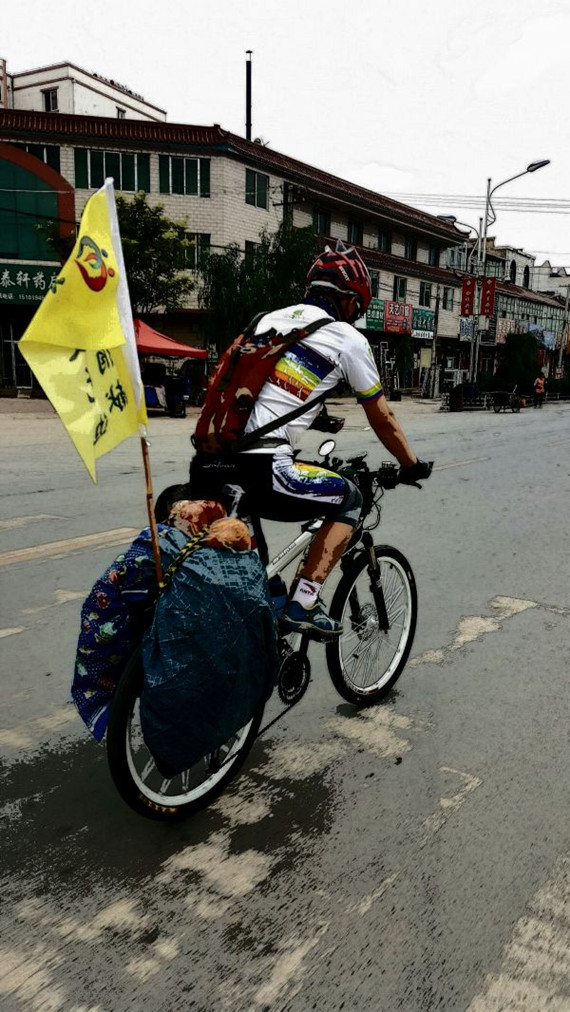 Wang Zhengwei keeps riding to raise public awareness of organ donation.
* All photos provided by Wang Zhengwei

12 Comments